Cheyenne Kesler: Fall 19 Exchange Tokyo, Japan
Cheyenne Kesler - Exchange: Sophia University in Tokyo, Japan - Fall 2019
The first day in Tokyo was a blur. There's a constant sea of people pushing their way through the crowd outside the arrival area at the airport. The crowds do not get that much better as you are trying to fight your way through the streets in Shibuya, Shinjuku and even Harajuku. On the day that I arrived in Tokyo, everything seemed to blur together. The train station maps are not that helpful for a foreigner especially if you can not read hiragana, katakana, and kanji. I highly recommend to get a SIM card as soon as you arrive so you can use Google Maps, which is a life saver. I started school in the middle of September and the classes are quite different from UWG. My core classes meet twice a week and my Japanese classes are everyday. I have had the great pleasure of meeting plenty of people from the same department where we are all exchange students. I spend most of my evenings getting dinner with my friends, going out to bars as that is the regular thing to do in Japan, and to also explore the city.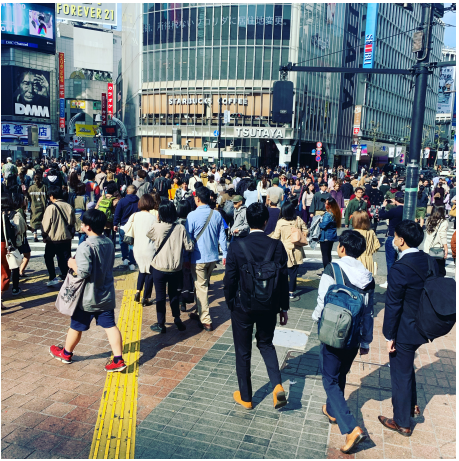 [Shibuya Crossing] -Shibuya crossing
As you are walking down streets, make sure to go into back alleys. You can find some amazing things such as shrines. When my friends and I went to Korea Town, Okubo, we accidentally went down an alley street and found a shrine. People come to this shrine to pray for safe travels.
​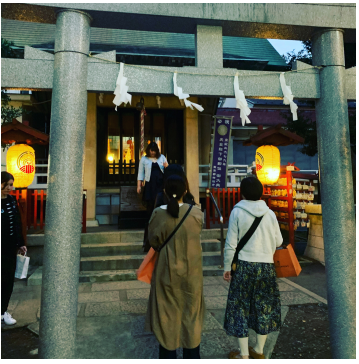 [Safe Travels Shrine]
There are also many festivals in Japan especially the spring time. I recently went to the Tori no Ichi festival in Fuchu, Tokyo which is on the west side. At this festival, many people come to purchase くまで (kumade) which is a bamboo rake that is supposed to bring prosperous business.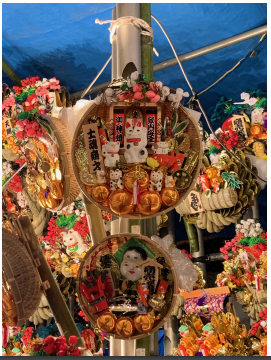 [Kumade]
These are kumade, there were about four giant stands full of kumade. There were also many food stands filled with traditional Japanese food and also Korean food.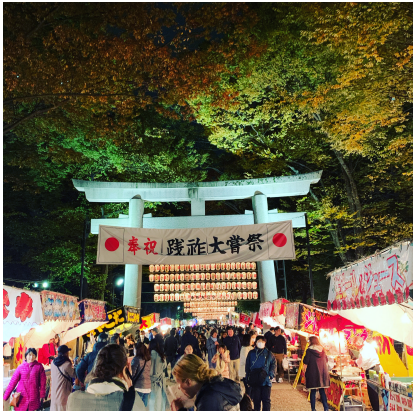 [Tori no Ichi Festival Entrance] Tori no Ichi festival entrance.
While my friend and I were at the festival we were able to pray at the shrine. There is a proper etiquette to pray at temples. First you must bow two times, clap your hands twice, pray, then take another bow but this time more deeply. Also, before you leave the shrine doors, you must turn back and bow once more.
[Fuchu, Tokyo] -Fuchu, Tokyo