Alecia Johnson- Fall 21 Exchange Konkuk University
Alecia Johnson - Exchange: Konkuk University in South Korea - Fall 2021
I would like to start by telling you about my process getting from Atlanta to South Korea starting with my plane ride. My flight was from Atlanta Hartsfield International Airport with a layover in Toronto, Canada to Incheon International Airport. Prior to this 11+ hour plane ride, the longest I had been on an airplane was eight hours. This flight however was a lot more strenuous to say the least!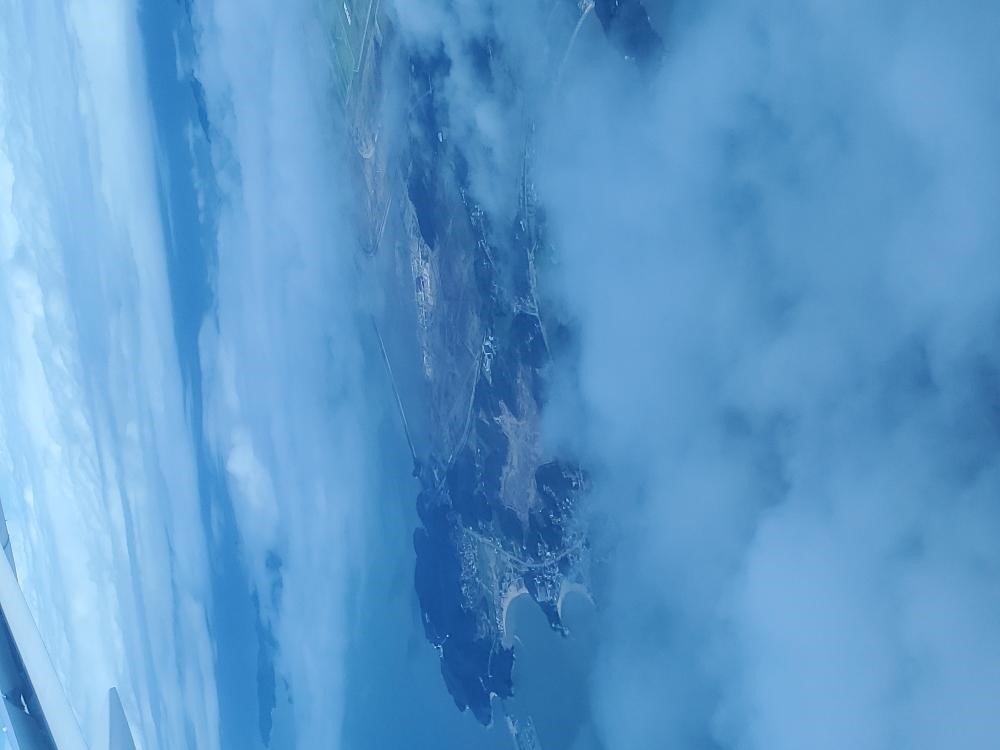 [Flight to South Korea]
Because of Covid, the process of clearing me to leave the airport was a bit different. Once I arrived in Incheon however, I was directed towards a table to fill out paperwork about where I would be staying and how I was getting there. After handing over documents like my mandatory negative Covid test and passport I was taken through customs to verify my information. After picking up my luggage I was taken to my "quarantine taxi" where I was then escorted to the room I would be staying in for the next 14 days. During this time I was not allowed to leave the hotel or even my room for any reason besides getting my Covid test before the beginning of the quarantine and after. The hotel I booked with delivered a food package to me for those 2 weeks I would be staying there. Additionally, everyone who had to quarantine had to update an app twice a day with our temperature and whether or not we were experiencing any Covid symptoms or not. While I was quarantining, I adjusted to the time-zone and just watched a lot of Netflix! Occasionally, I would have food delivered to my room if I didn't feel like eating what I. Surprisingly the delivery services in Korea are very fast. In America getting food delivered to you can take anywhere from 30 mins to several hours. The longest I have had to wait so far was between 25 to 30 minutes!(and sometimes even less than that)
After my quarantine and "end-of-quarantine" Covid test was over and done, I took a one hour taxi ride from Incheon to Seoul to my room at Konkuk. I checked in and eventually met my roommate. Since I have been here, I have been exploring the shops and restaurants outside of campus. It has been a very Interesting time here so far, and I look forward to sharing more of what I encounter while I am here!
[Seoul at night]
Hello everyone it's Alecia again! It has gotten a lot colder since the first update. It is technically Fall here but there are definitely some winter-like days here and there. Since the last time, I've been exploring many different places. One of the places I visited 2 weeks ago was a memorial for an activist named Dosan Ahn Chang-Ho located in a park area in Gangnam, Seoul. In the picture here you can see how important he is in Korean history.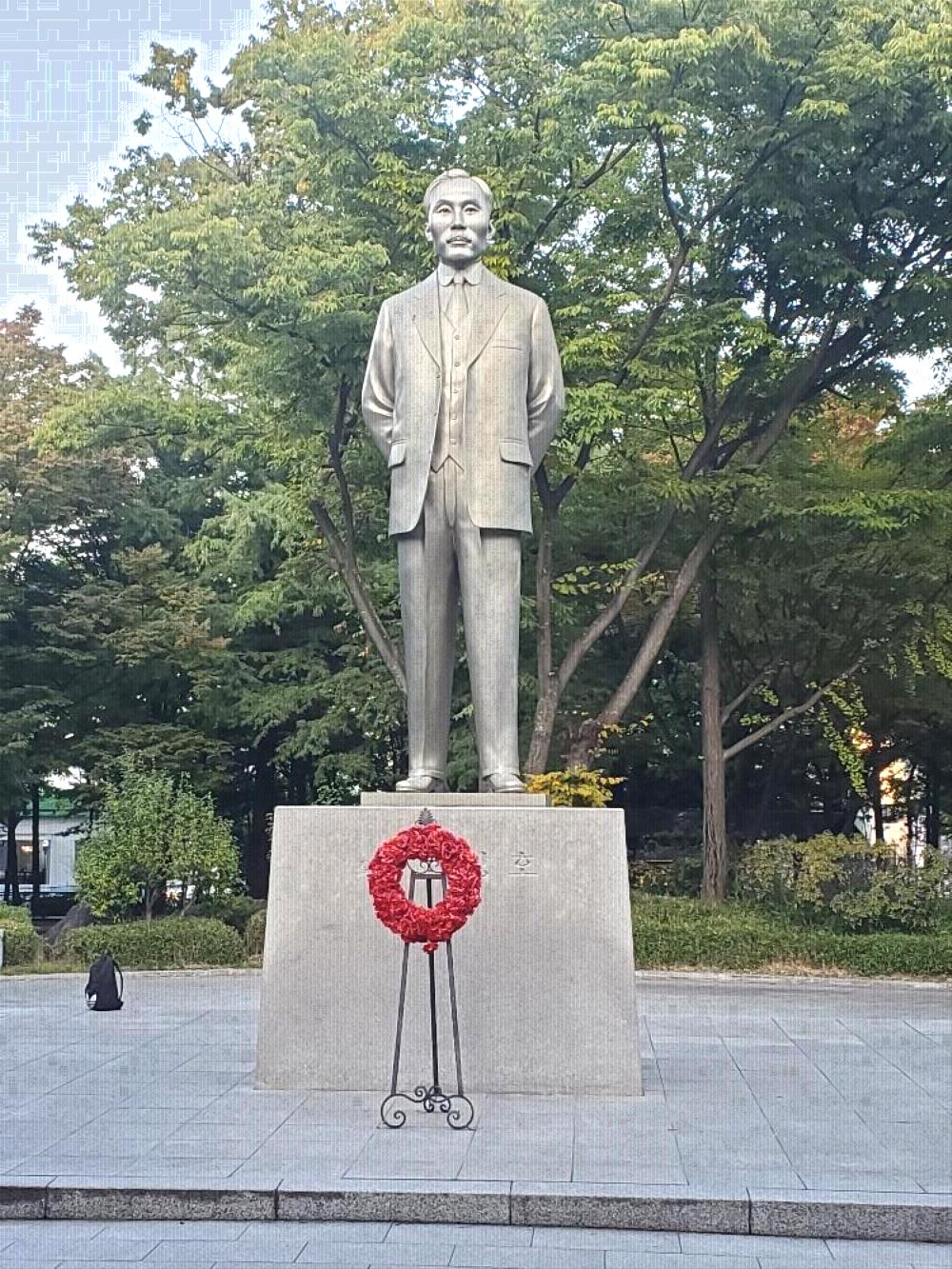 [Statue in South Korea]
The next place I visited was Gyeongbokgung Palace. The first picture is the main entrance to the palace. The day I went me and the friend that I went with, decided to rent hanbok ( 한복 ) which is a traditional korean dress, for a few hours and take pictures around the palace. If anyone reading this decides to go, entry is actually free if you wear hanbok.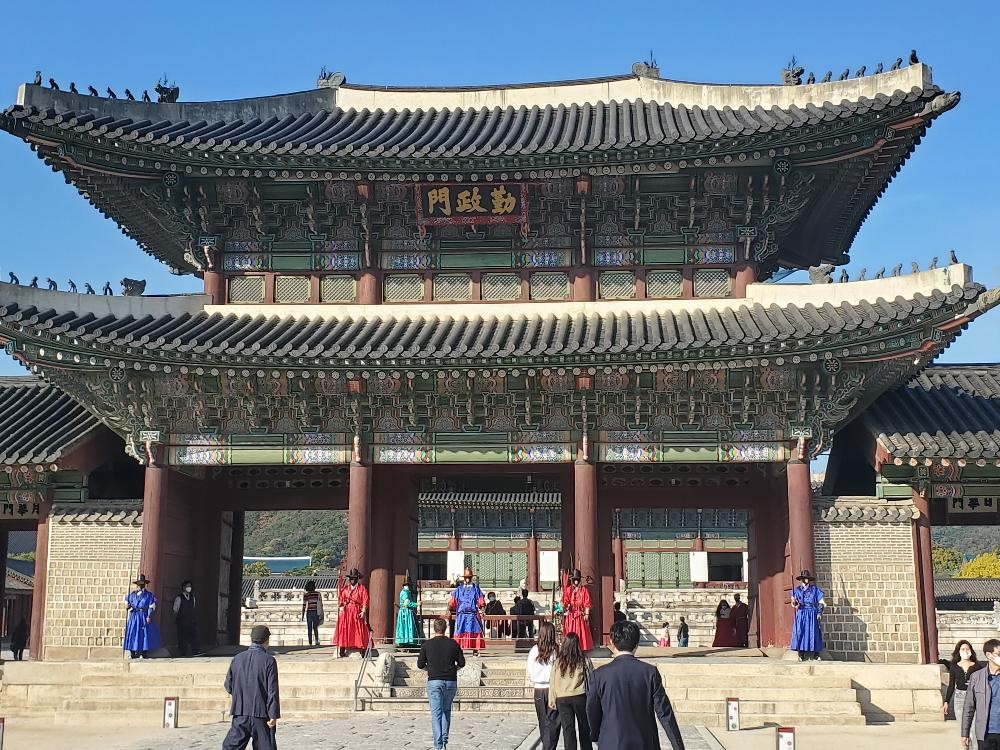 [Gazebo in South Korea]
Next is a picture I took of a gazebo-like building in the middle of a pond within the palace. Clearly, it is a very beautiful place with the added backdrop of a huge mountain. The palace was so much bigger than I was expecting. Even after two hours we hadn't even seen two-thirds of the entire palace. That might be because we spent the majority of our time taking pictures in every possible place we passed throughout the palace!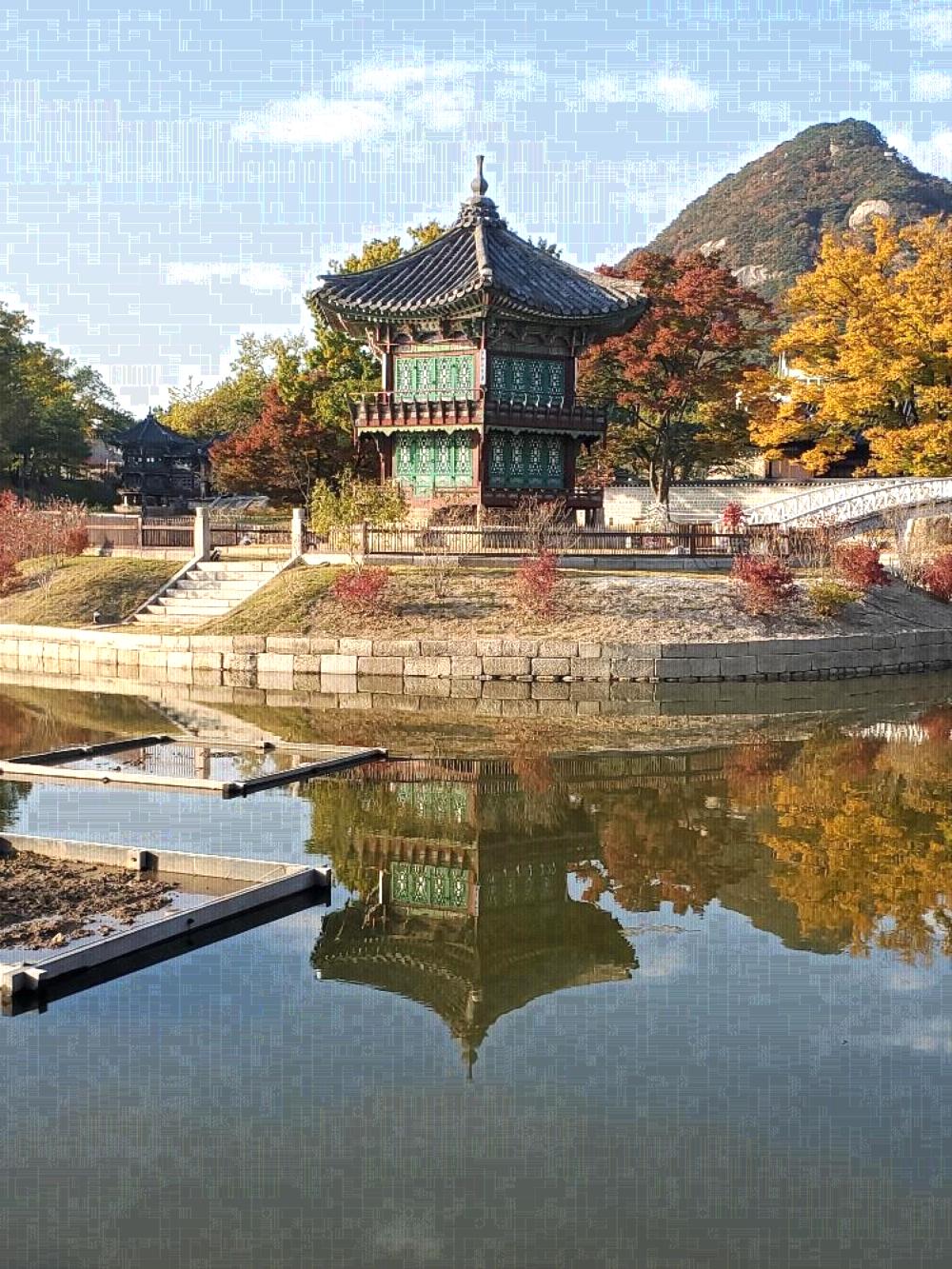 [Gazebo in South Korea - actual]
Although the weather these days has been cold and gloomy, the day we went was actually perfect for a trip like this. This particular palace is located in Jongno, Seoul in the middle of a modern city like many other palaces/temples in and around Seoul. I would definitely recommend Gyeongbokgung Palace to anyone that visits Korea and is interested in Korean history. I look forward to sharing more of my adventures with everyone. Goodbye!