What's it like to be an exchange student?
Alex Escobedo - Exchange: Konkuk University in South Korea - Spring 2018

Beyond The Border

Day 105 – South Korea.

The deep blue sea of Busan to the sparkling night life of Seoul will catch your attention when you visit Korea. Busan, the second largest city in Korea has a slower vibe then Seoul but it is peaceful, and the slow-paced lifestyle will bring peace to your heart. Seoul is known as the city that does not sleep. Throughout Seoul you will find several breathtaking tourist sites that will catch your gaze. Seoul's night life is separated through districts across the city. The most popular districts to experience Seoul night life would have to be Kondae, Hongdae, Gangnam, and Itaewon. I personally feel that South Korea is a safe place where you do not have to worry about thieves. I enjoyed that I could leave my laptop, wallet and phone on the table in a café without worrying about someone taking it. The transportation system in Korea is extremely easy and you could get anywhere in South Korea within hours. The trains, buses and taxis are not expensive and if you ever get lost signs are plastered throughout the walls in the station.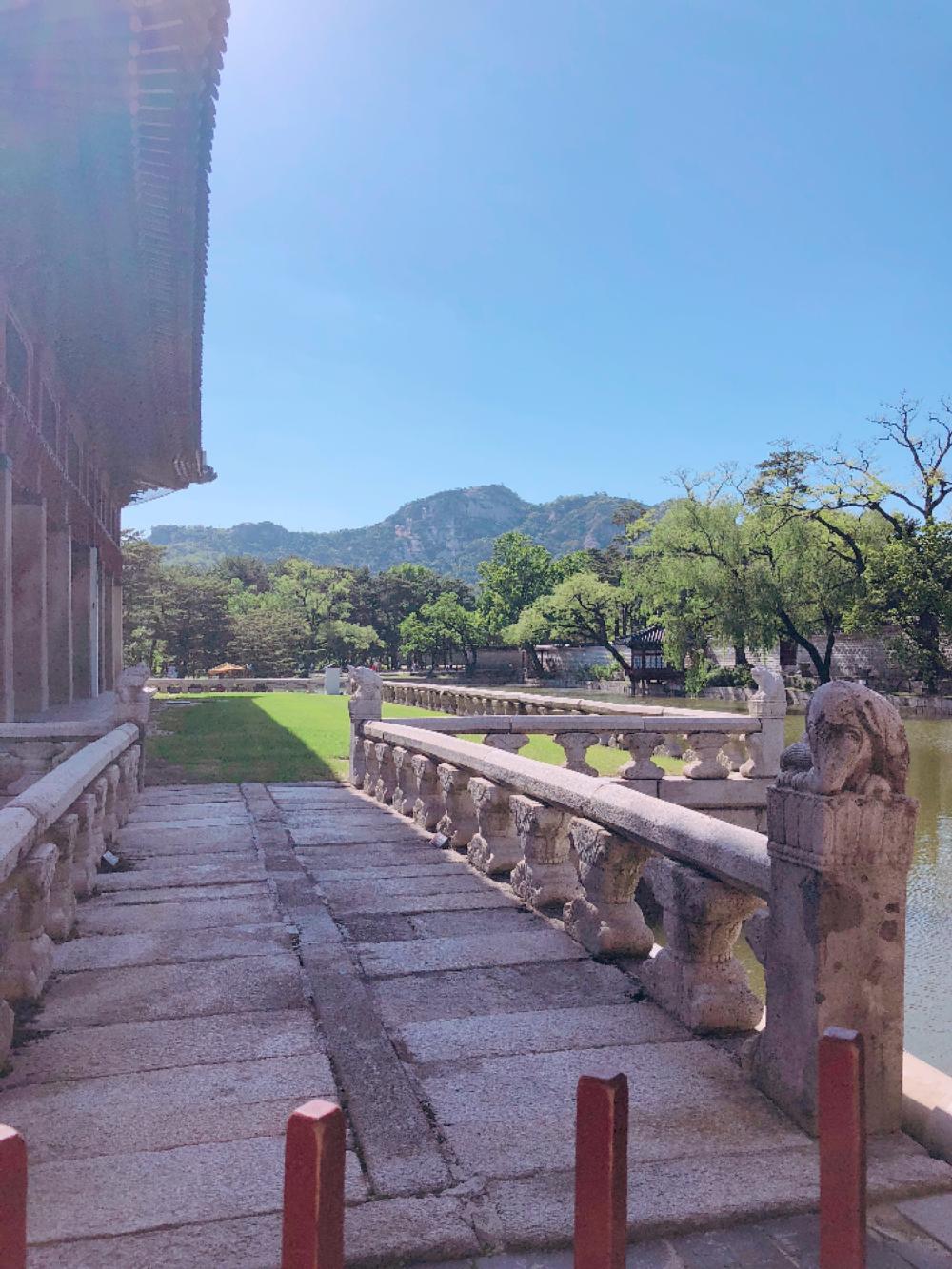 My 6-month study abroad program in South Korea has begun come to an end. My time in South Korea will never be forgotten and I will cherish each mind-blowing yet touching moment of my trip throughout life. I feel like the past 5-months have flown by and I regret not exploring as much as I should have. There are several places in Korea that I would love to explore and experience for myself. I did manage to travel to all five palaces, explore traditional villages, and travel to cities down south. One month remains and preparing to leave behind all of the amazing friends you have made is not easy but planning a trip to meet again is just as exciting. I feel like my last month will be crazy since finals are coming up, but I will make the best of the time I have left in South Korea.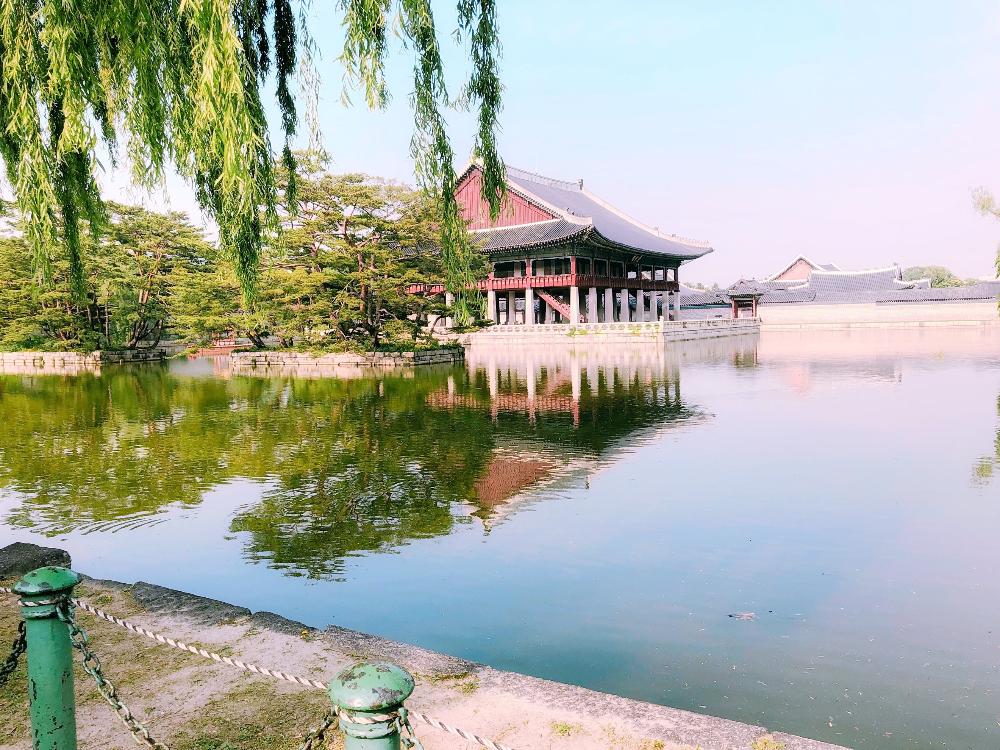 Aleiya Jackson - Exchange: University of New England in Australia - Spring 2018

I have made it halfway through my study abroad experience and I must say time sure does fly by. The past couple of weeks have been filled with ups and downs, but I am grateful for each obstacle and blessing I have encountered. Ultimately, I did experience homesickness without even realizing it. I begin to feel nauseous and developed unpleasant headaches but with a sip of Airborne I was good to go. I also begin to feel out of place at times and found it hard to relate to the Australian culture. However, I did experience many adventures in between time. I was able to travel with other international students to Dorrigo National Park, Ebor Falls, and a few other national parks.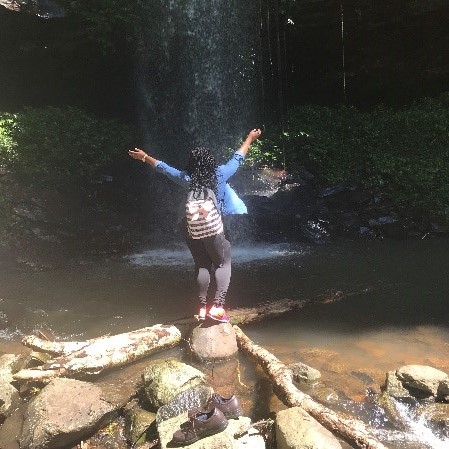 It challenged my physical ability, but it was all worth seeing the beautiful scenery in the end. I also had the opportunity to go on a beach retreat with the Christian organization on campus, which really gave me time to reflect on the person I was becoming and my relationship with God. During the retreat, I was able to experience the Australian culture through a religious aspect, which I found similar but different. Additionally, I got the chance to travel to Sidney over our 2-week trimester break with my traveling partner, Tatum, and I loved it!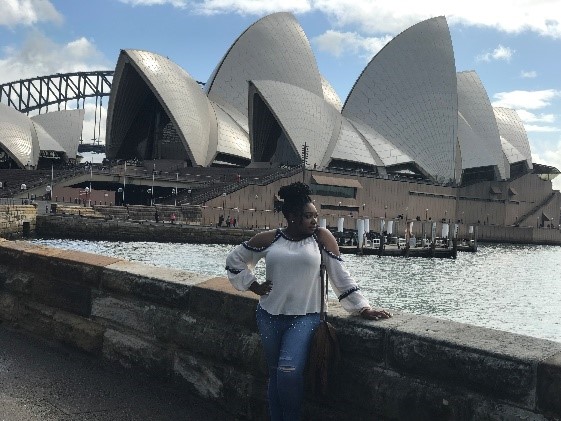 It reminded me of New York, but it was more relaxed. We went to Bondi Beach, the Opera House, and other tourist areas, which was beautiful. I was so amazed by the gorgeous view, I felt free and at peace. It finally felt like I was in Australia! Although we had the time of our lives, finding good restaurants was the downfall to our trip. At that point, we wish we were back in the U.S., but we also had to realize that it was not all about what we were accustomed to. For the most part, trying to find good food in Australia has been a challenge for me but I have learned how to live a healthier lifestyle. Overall, I have really enjoyed my time here in Australia and I am excited to travel and see more before I leave!
Alex Escobedo - Exchange: Konkuk University in Seoul, South Korea - Spring 2018

Beyond The Border

Day 45 – South Korea.

It's difficult. Life thousands of miles across the vast blue ocean may come across to some as an adventure, a new opportunity, or simply the unbelievable. After arriving in South Korea, you begin to question whether you have the ability to expand outside of your comfort zone. I have come to realize that your comfort zone may not be a safe haven, but rather a poison eating away your conscience. You will begin to find peace after overcoming the awkward, the embarrassing, and the new.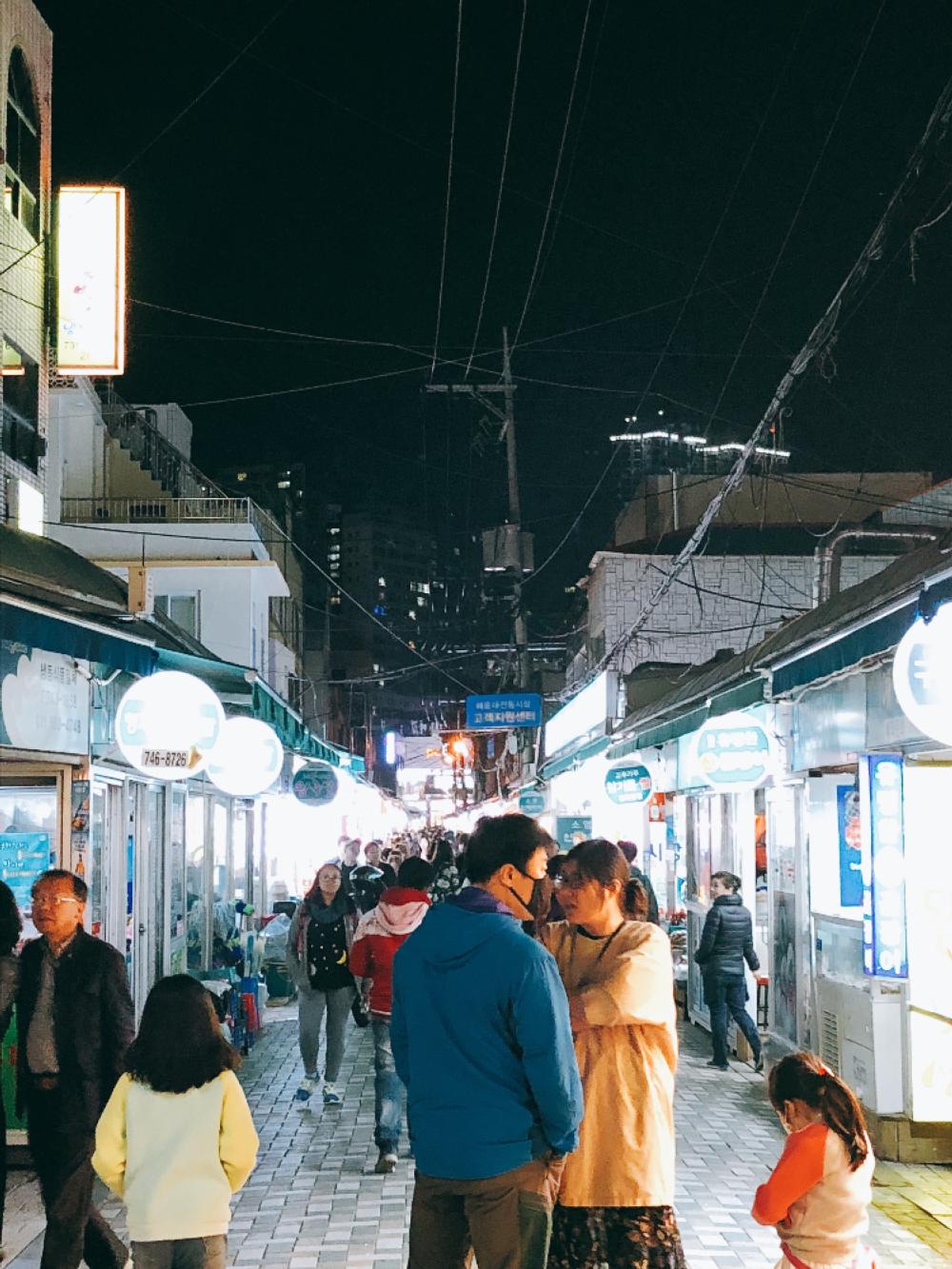 Don't worry! Making friends is a lot easier then you may expect. You will get an opportunity to meet people from all over the world and they are as eager to befriend you then you would expect. People will stay, and others will leave. You will make new friends everywhere you go, but that does not mean they are there to stay. I slowly realized who was meant to stay through time and those who left were not my concern. While Study Abroad you will gain the most help from the people who surround you, so choose carefully. You tend to have more time on your hands then you may expect. In South Korea most of your classes only have a midterm and a final with little to no homework. The class size is similar to UWG and it is not that difficult.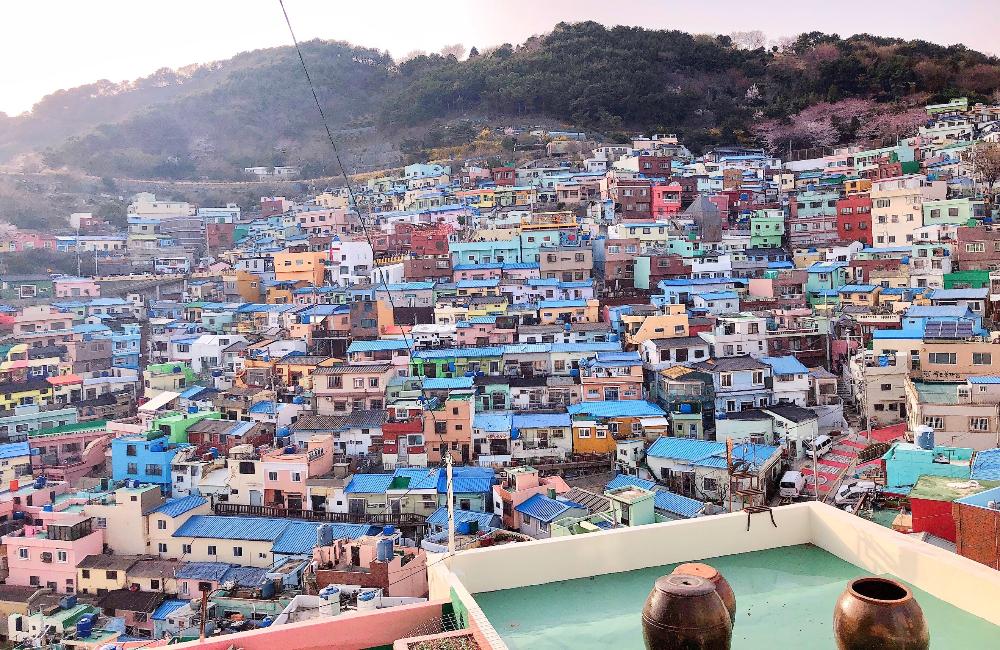 Kristin Lewis - Exchange: Université François- Rabelais - Academic Year 2018
So what I've discovered being abroad for two semesters is that early spring semester is way colder than late fall semester (seriously, bring a heavy coat and if you have wool socks, bring them too, and you're definitely going to want an umbrella). In early February, we got snow! It makes the city look so much different, but I loved it (provided I could stay inside and not walk all over the city).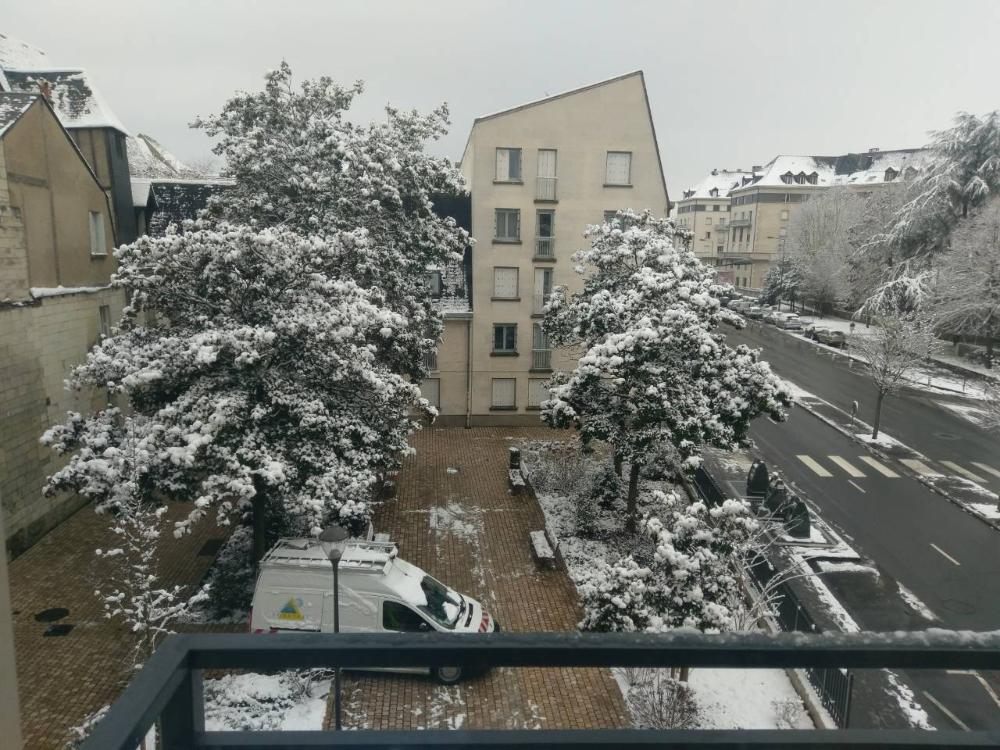 The downside to this was (as you can see with the bench mostly submerged), the Loire definitely swelled pretty high, because normally that bench is a fair distance from the banks. Luckily it's
starting to get warmer now, so more snow is really doubtful.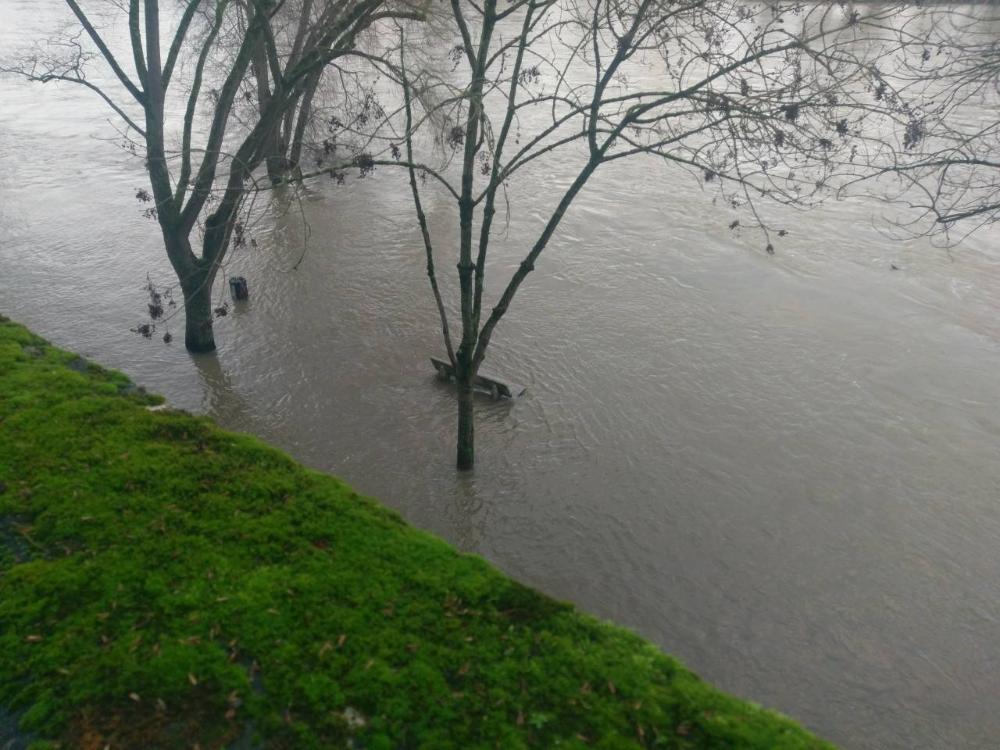 On a recent trip to the Château d'Ussé (which is allegedly the castle that inspired Sleeping Beauty), I found peak France- a baguette vending machine, which a friend kindly posed next to. Most of the time you get acclimated to the culture and you just carry on living, and then you find that one thing that just makes you stare and realize you're not in the US any longer. The baguette vending machine was my moment of that. It was glorious (the castle was pretty good too).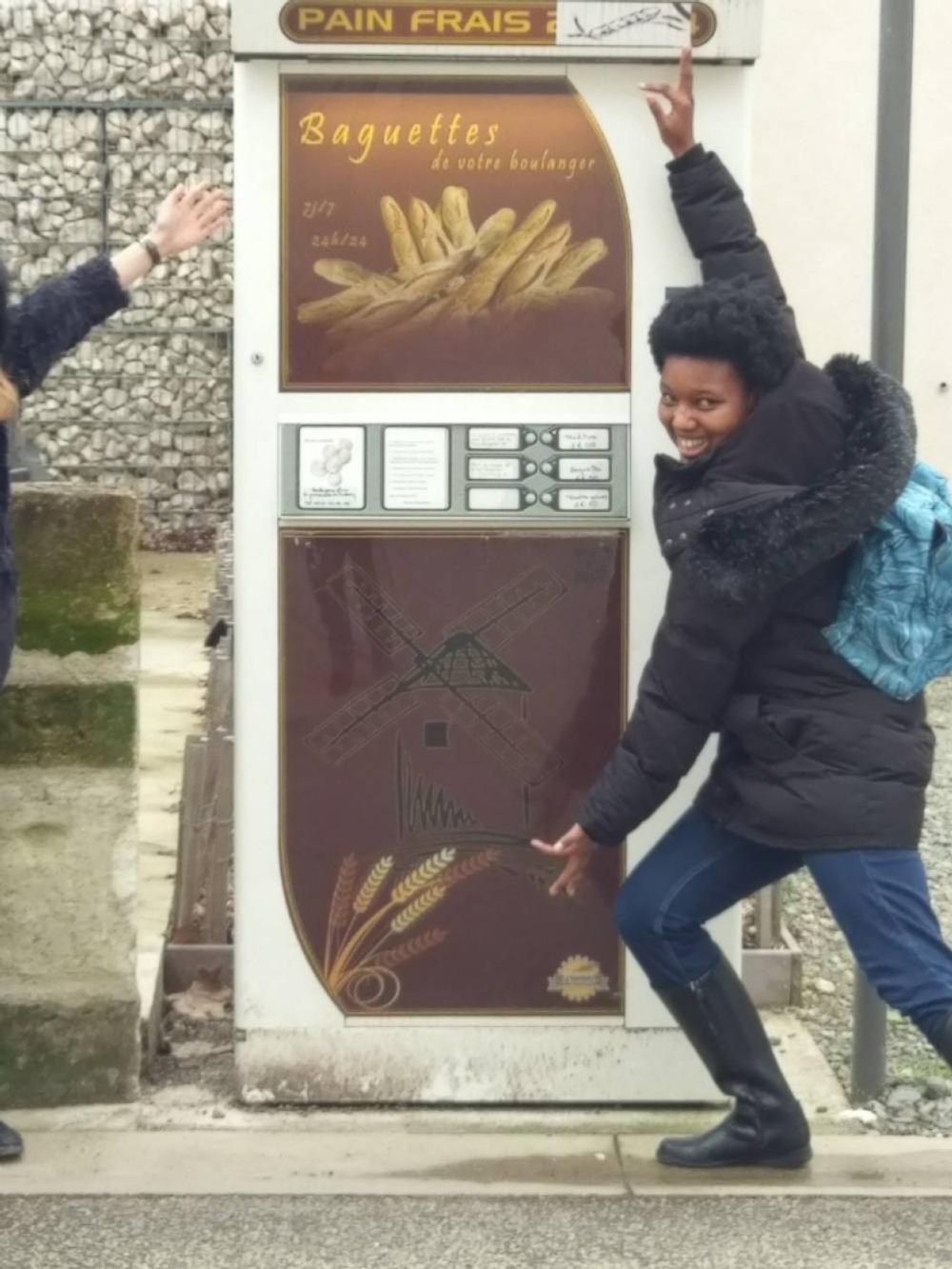 Classes in France continue to be way different than in the US, only meeting once a week and giving a fraction of the homework. It's really nice, and lets you follow multiple upper-level courses all at once without getting overwhelmed by the workload. Even the essays are shorter. On the other hand, it's all taught in French, so lectures do take a lot more concentration. There is a trade-off, especially considering that, at least in the history department, very little is posted online and they don't write much on the board, so you really have to stay on it. The history classes at my university in Tours are definitely improving my French more than any of my other courses, even if they are making my vocabulary a little random (I can now talk to you about farming equipment in French).
Tatum Tozzo - Exchange: University of New England, Australia - Spring 2018
It hasn't been a month in Australia yet, but it's coming close around. Nothing too exciting has happened the first two weeks on campus. The first two weeks were composed of the normal freshman stuff since I and other international students are technically first years at the University of New England. I have explored the campus and some of the social events, along with another international student from the University of West Georgia. It is weird being here and the events that are set up for the freshmen or "freshers." The first week was uneventful all together, but the second week, "O Week," was filled with games and parties that were supervised by the people of Mary White College, which is where I stay at. I have been trying to stay on my Study Abroad Journal, but I haven't been in the habit and just now got caught up on it. I have been posting daily things that have happened to me and weekly summaries of my time here in Australia, so my family and friends back home can see what is going on.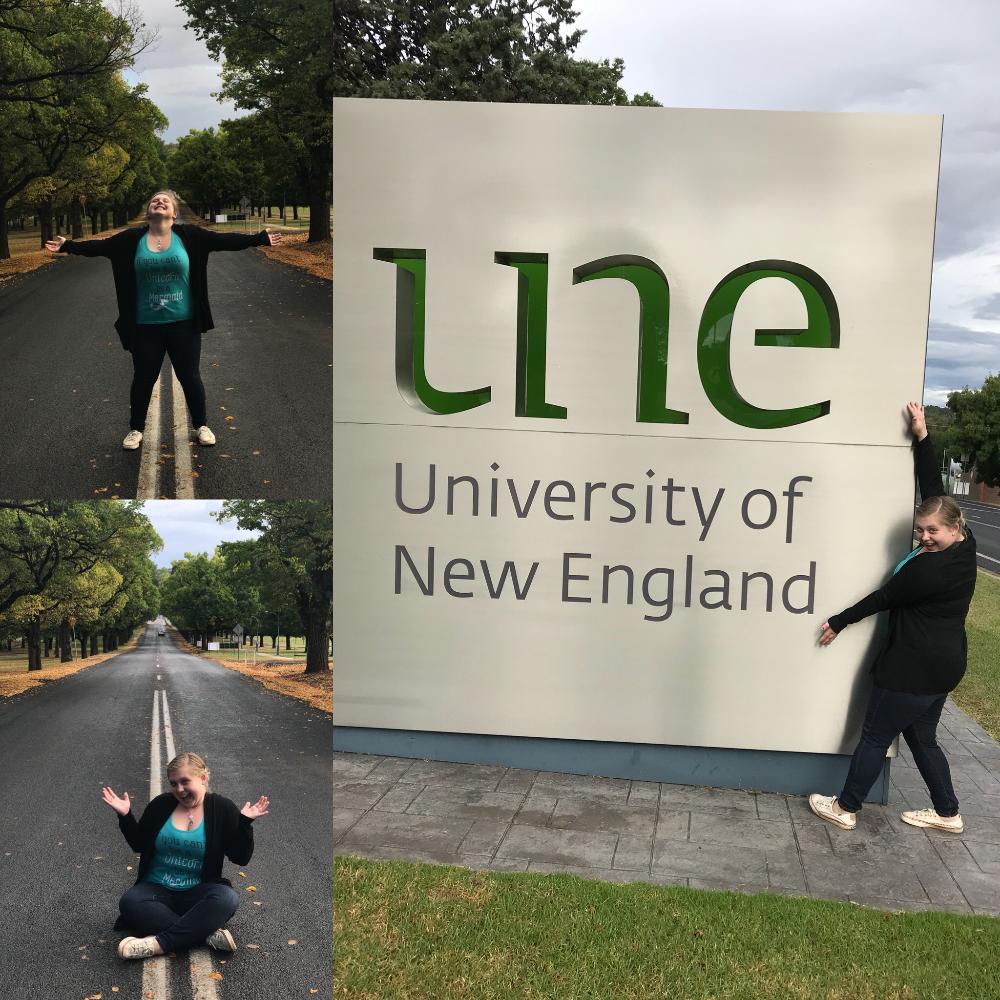 I have seen a lot of kangaroos, very pale deer, and exotic birds that we normally have as pets. Out of all of the animals that I have seen, I have sadly not seen a koala; however, I am keeping my eyes open and pointed towards the tops of the trees. I have not been out of Armidale; however, I will be going to Dorrigo national park and maybe a retreat to the local beach.
Today was the first day of classes and the class size is a whole lot smaller and the classes are set up differently. The normalcy for UWG is to have classes twice a week for an hour and 45 minutes or three times a week for 55 minutes. Classes are rarely 2 hours long and once a week; however, that is normal for classes over here. The classes are very small as well because UNE is mainly an online university. I'm used to having at least 20-30 students in my classes and am rarely seeing 10-15 now.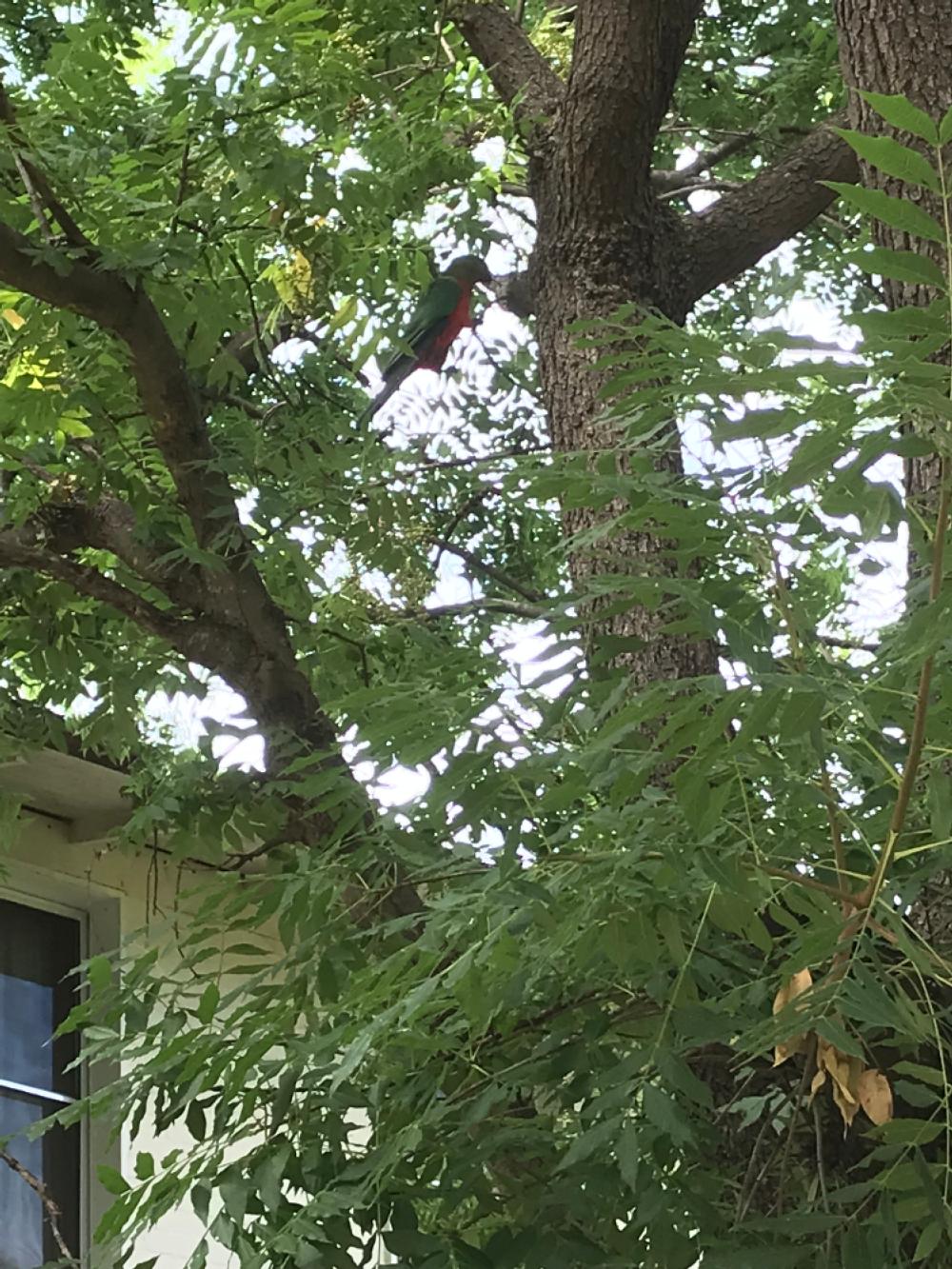 Home does not seem to be much different than here, besides the wildlife; however, the costs are a lot more here. Because American money is worth more in Australia, the funds do not seem as much; however, the costs of groceries is still more than in the United States due to higher wages in Australia.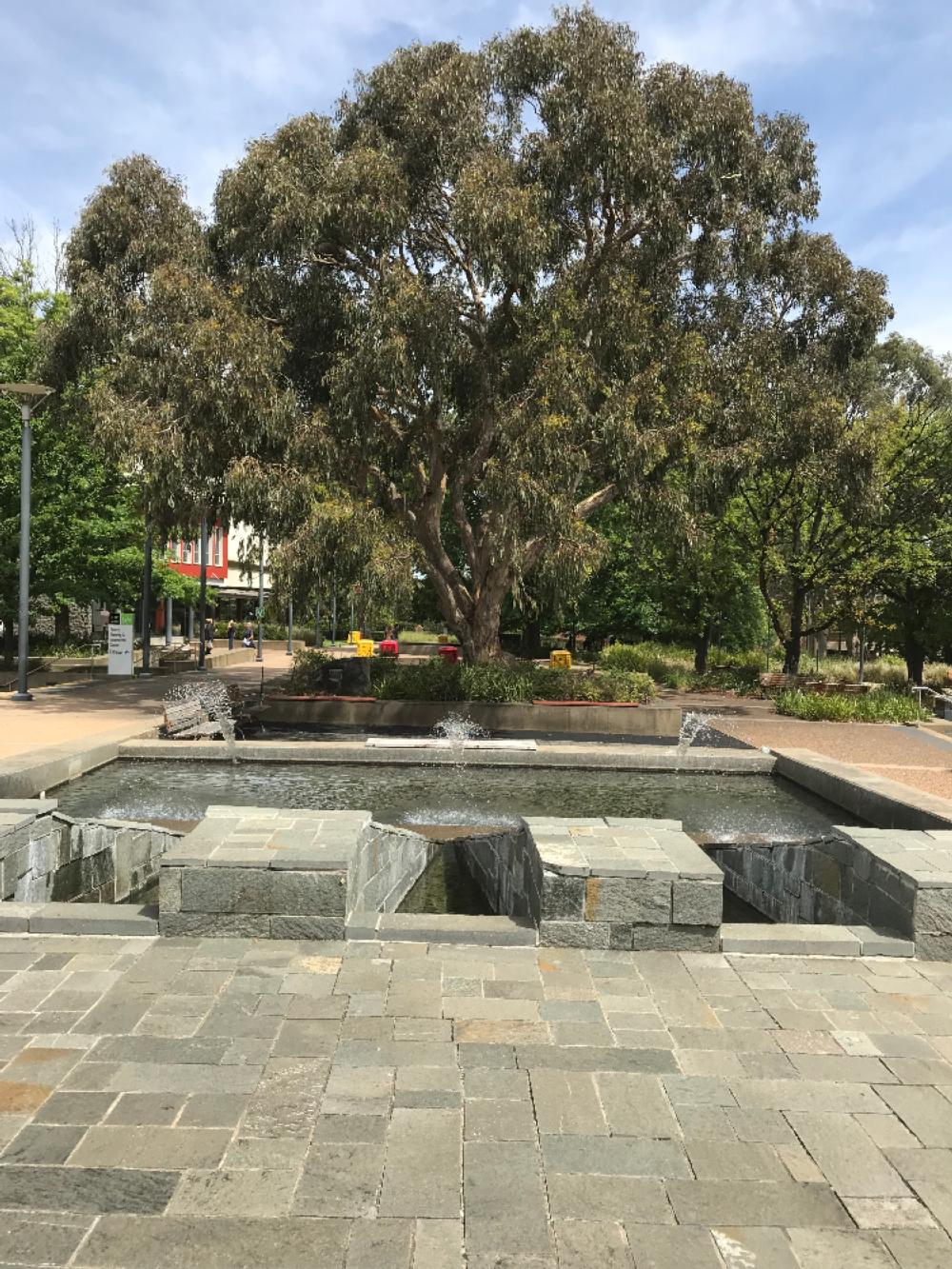 It has not been easy being here, even though it has only been two weeks. I have moderate social anxiety and have had some meltdowns; however, I still go out and be social. If I didn't do that, then I wouldn't be achieving my goals. I have had a little bit of general anxiety from being overwhelmed; however, it is not too much. The worst thing that I have been through is being far away from family and friends, when there is a death in the family. That is the hardest thing, but I have not let that consume me and stop me from going out and being social and active on campus.
Aleiya Jackson - Exchange: University of New England, Australia - Spring 2018
I have finally settled in my new home for the next 4 months after traveling nearly 16 thousand miles away from my family and friends just 2 weeks ago. Emotions did not hit me until I got ready to head to the airport, but no worries they were tears of excitement. After landing at the Armidale airport, it felt so unreal as if I was living in a dream I could not wake up from.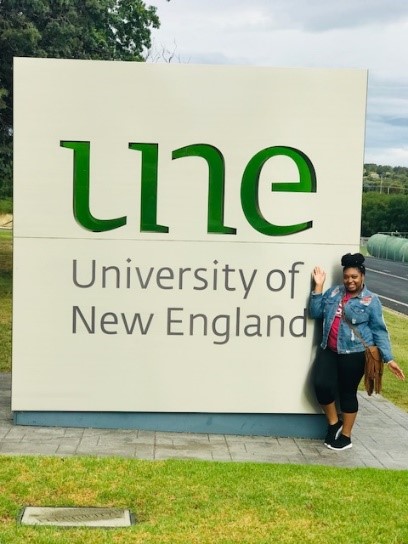 Overall, my first two weeks in Australia have been great. I have already created new friendships and accepted the Australian culture as my own. Although I must say, the food is very different from America and my parent's homecooked meals, which I am slowly adapting to. My favorite part about UNE are the beautiful birds and the outrageous kangaroos hopping around campus every day. Meet Ethel the campus kangaroo and trust me there are many more in the deer park!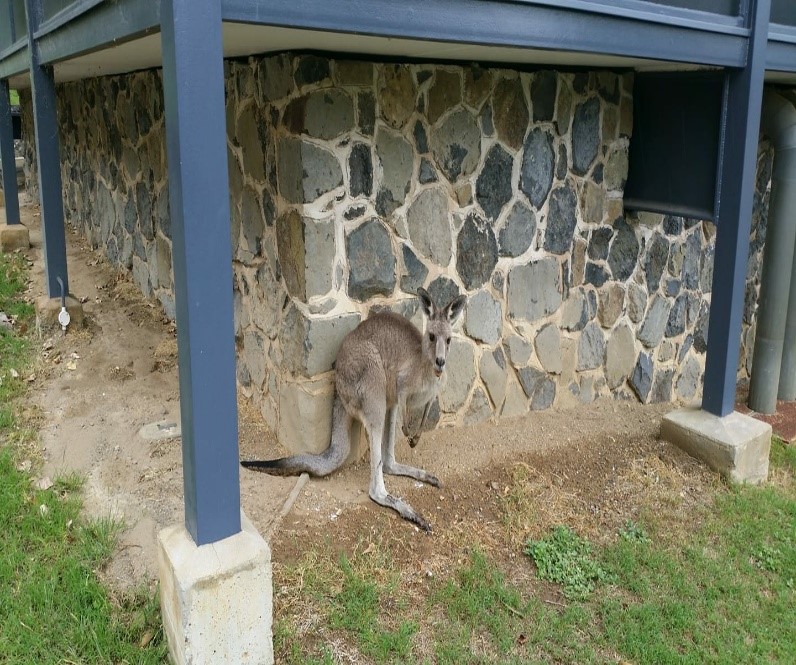 Not only have I learned about the people in Australia, but I have also been able to share my culture with others as well. The more I got involved with activities on campus, the easier everything became. I have learned that Australia is a country where it does not matter what others think and your only choice in life is to have fun. On the other hand, classes have just begun, and it is similar but very different than what I am used to at West Georgia. The classroom settings are less populated and more impersonal. Besides, I have plenty more exploring to do across Australia and I know there will be nothing, but great memories created ahead!
Alex Escobedo - Exchange: Konkuk University in Seoul, South Korea - Spring 2018
Beyond The Border

Day 18 - South Korea.

Without notice, I feel like an adventure of a lifetime has fell right in front of my eyes, but I honestly do not feel like it is real. Every day I stumble across the question of whether or not I am really in South Korea. I feel like I am still in the "honeymoon" phase when I look around only to find all of the vibrant signs stacked above one another beautiful, and the extremely small fast-food cups catching my gaze.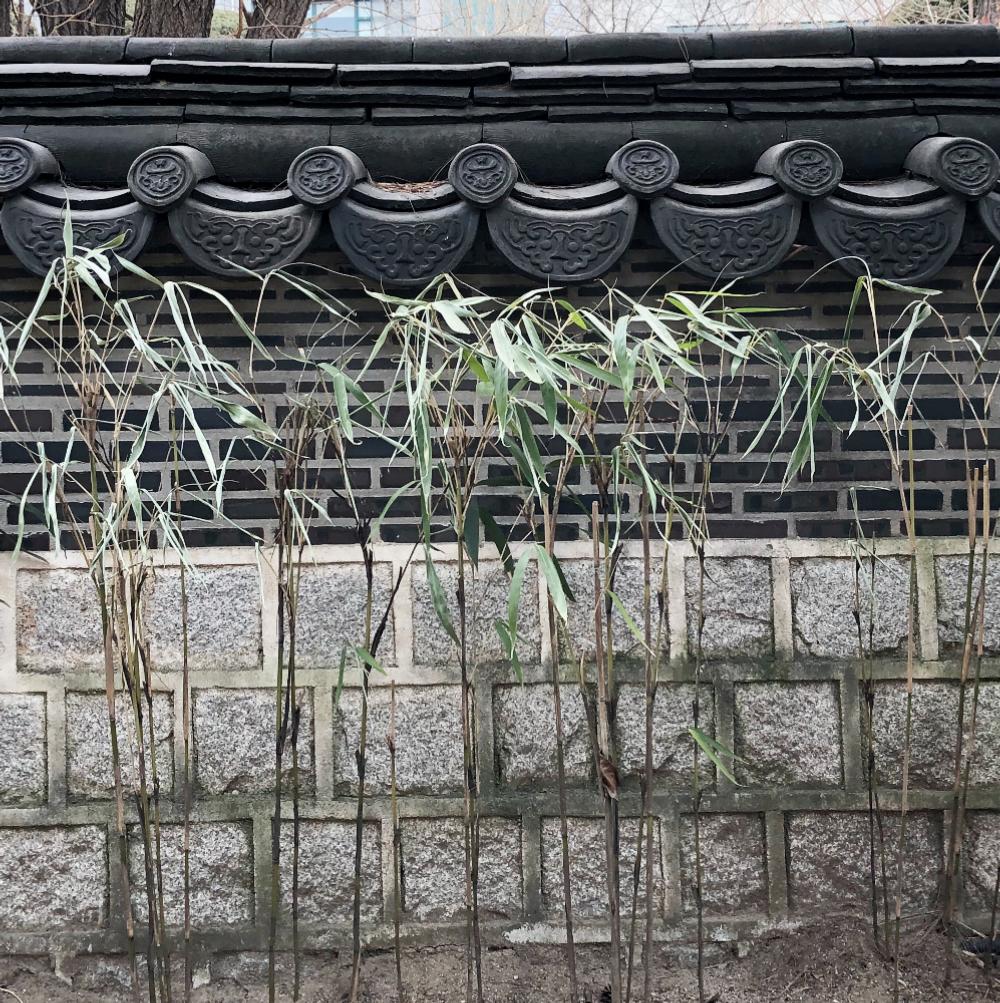 The first few weeks were full of excitement, worries, and disappointment. Firsts cannot always be the best or the worst. In your dreams you expect everything to be perfect, and you drag your great expectations from a dream only to find out living your dream does not always workout the way you expect. Life is not like a Korean Drama where everything plays out perfectly. Reality is far more interesting than you would imagine, and you might just have an adventure of a lifetime. As a foreigner, I was excited to see the world through the eyes of South Korea. I worried that I wouldn't fit in and I was disappointed that I was so shy. After hitting the 18th day in South Korea I learned that you need to take each day with a grain of salt. You cannot expect every day to be perfect, but you can expect an adventure like no other. For everyone who wishes to study abroad I would like to tell you that it will become an experience that you will never forget, and I strongly recommend you to take a chance.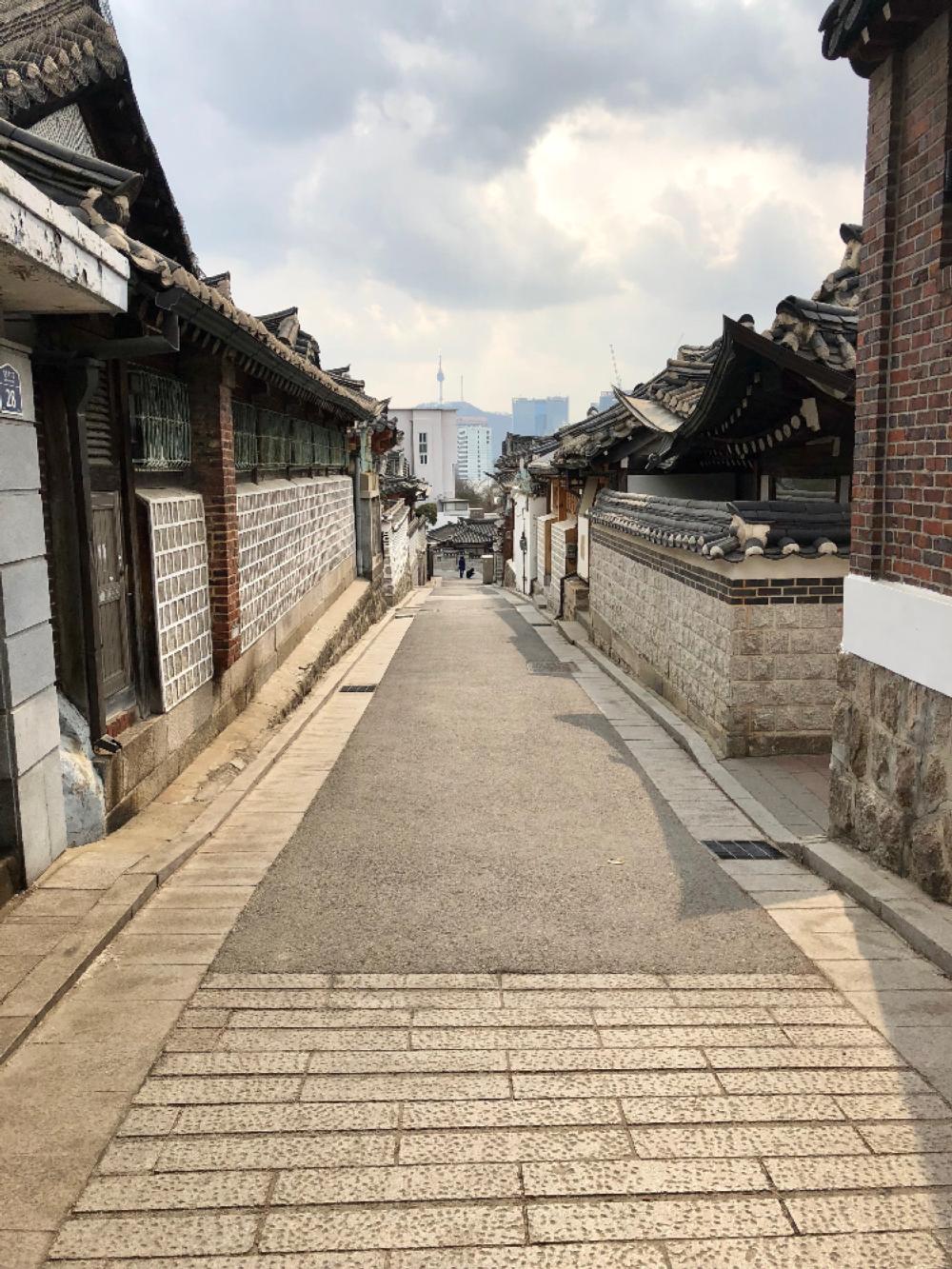 Teresa Gonzalez - Exchange: University of New England in Armidale, Australia - Spring 2018
I have officially been in Armidale, Australia for a week now! Within my first week I saw a Kangaroo and I have been able to explore both the campus and the town. Something that surprised me was all the different animals that can be heard here in Armidale.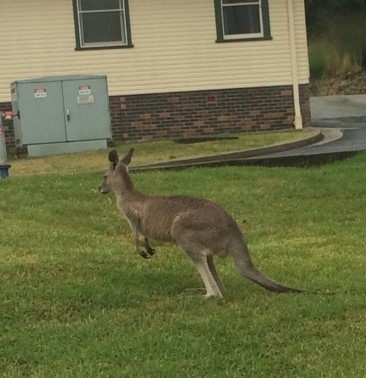 At the beginning, it takes some adjusting, but I believe that writing in a study abroad journal helps with reflecting on everything. Something else that really helps is forming connections and friendships with others. Despite only being here for a week, I have met many friendly people in Australia. Something that is very interesting and that I have noticed is the open and friendly manner of many Australians. As for the university itself, classes will not start until March 5th, but the set up in the library was built for the comfort of the students and it is very open (as seen in the picture below).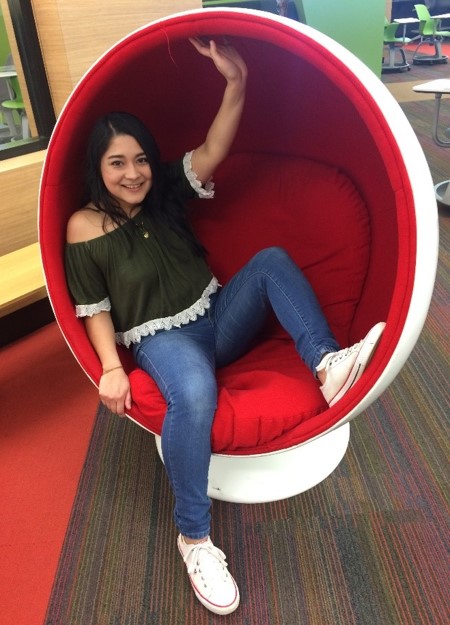 Kristin Lewis - Exchange: Université François- Rabelais - Fall 2017
In Tours, France, I've been exploring the Loire Valley and doing day trips and weekend trips to both different parts of France and other European countries. So far this semester I've been to France, Norway, the Czech Republic, Belgium, and the Netherlands, and I'm going back to Norway for Christmas!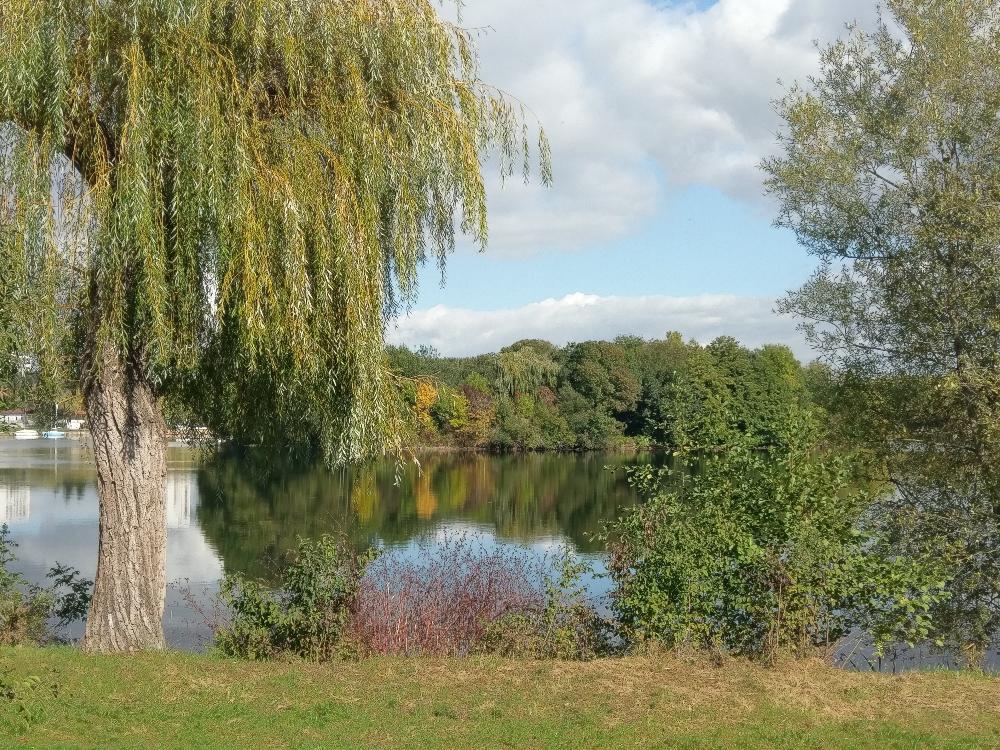 The absolute best part about my classes here is that they meet only once a week. They're a lot less interactive than classes at UWG, most of them are lectures with only a couple of questions posed to the students. Most of the professors are extremely helpful and welcoming, it's just a cultural change that the courses are not interactive. The bizarre part is the lack of textbooks. The teachers give you booklets that are basically the course in a nutshell, and that usually has your homework in it too. So, if you lose that, you're pretty much out of luck. The homework load is pretty light, too, provided you can take notes and review it on a weekly basis. All of their courses aimed at exchange students are pretty well aware of the fact we want to take advantage of being in Europe and travel. And the essays! The students here all seem to think a 4 page handwritten essay is long! I asked how long a history essay was supposed to be and then accidentally turned in that length but typed. The professor just stared at me.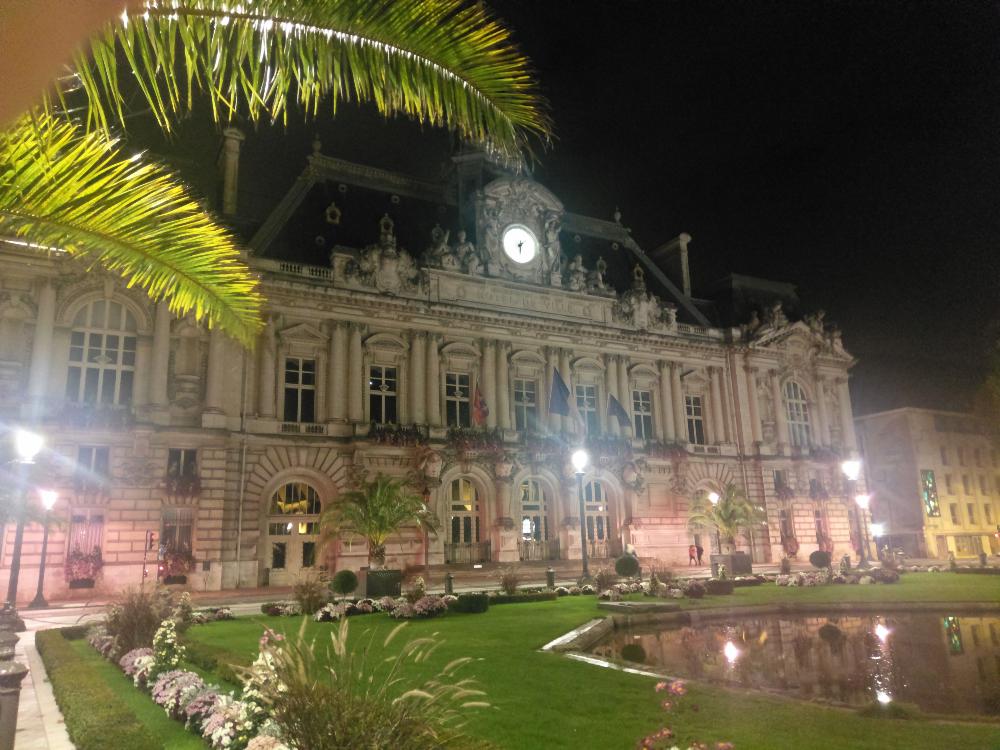 It's a grab bag interacting with native French speakers for me. There are a lot of them in the tourism industry that just automatically switches to English as soon as they hear my accent, and then there are a lot of little French grandmas that practically adopted me as soon as I open my mouth. I've had sweet little old ladies take me by the hand to lead me across the airport to where I needed to go (directions would have sufficed, but no one is as stubborn as a grandma on a mission), make sure I was following the directions they were telling me, and explain what things were in little words. I also got in conversation with a group of guys from Paris on one of my trains who were all insistent that I had to share their drinks and chips, which was hilarious, and honestly, as long as you try to speak French, I've found that they're really some of the most inclusive people I've met. This was also the group of guys that were heading to Amsterdam and tried to get off the train in Antwerpen, because all cities that sound not-French and start with A are the same apparently (Antwerpen is in Belgium, Amsterdam is in the Netherlands, they would have been getting off the train in the wrong country. When I convinced them that it was at the wrong place they sheepishly admitted that they don't get out of Paris much.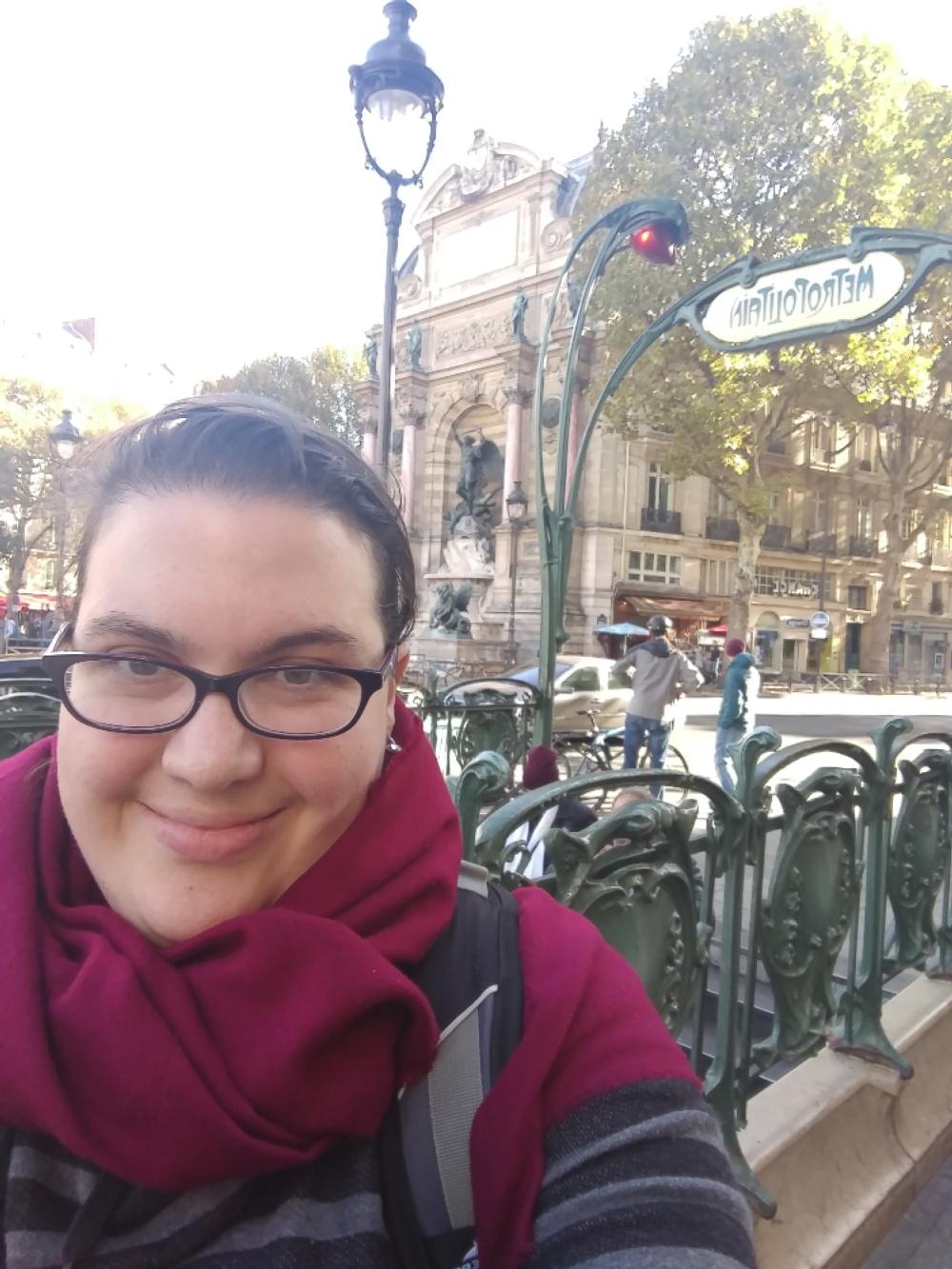 I've also been making sure I hit up the French cinemas to watch movies in French, and not just the latest US releases. The truly fun part about these comedies is playing spot the actor, because one of my friends and I were watching one going, "Isn't that so-and-so from the preview?" and "Yeah, and they're talking to so-and-so from that other movie." French cinema is apparently a super small world. The nice part is that even in the witty, verbal comedies in French, they're still pretty easy to follow. I think there's culturally quite a difference between American and French ideas on what an ending should be for a story, but they're still pretty good. I got home from C'est Tout Pour Moi and went on a long gush about it to one of my French friends and she was laughing at me and then proceeded to explain some of the nuance I missed.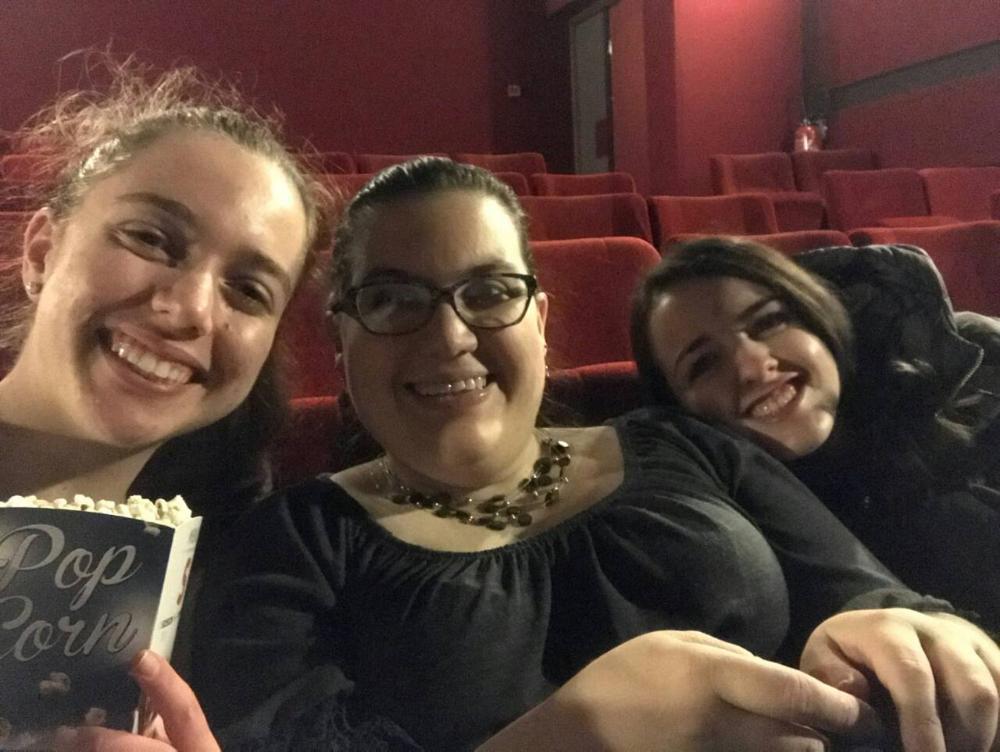 France does not, however, seem to believe in heating their bathrooms or classrooms, so I've taken to carrying a hot water bottle with me to class (gotta make up for that missing textbook weight somehow!) and using reusable hand warmers when I'm going anywhere else. This has been one of the big changes for me, trying to get used to this. I'm definitely used to the US which staunchly believes in central heating and making it about 90 degrees indoors in December.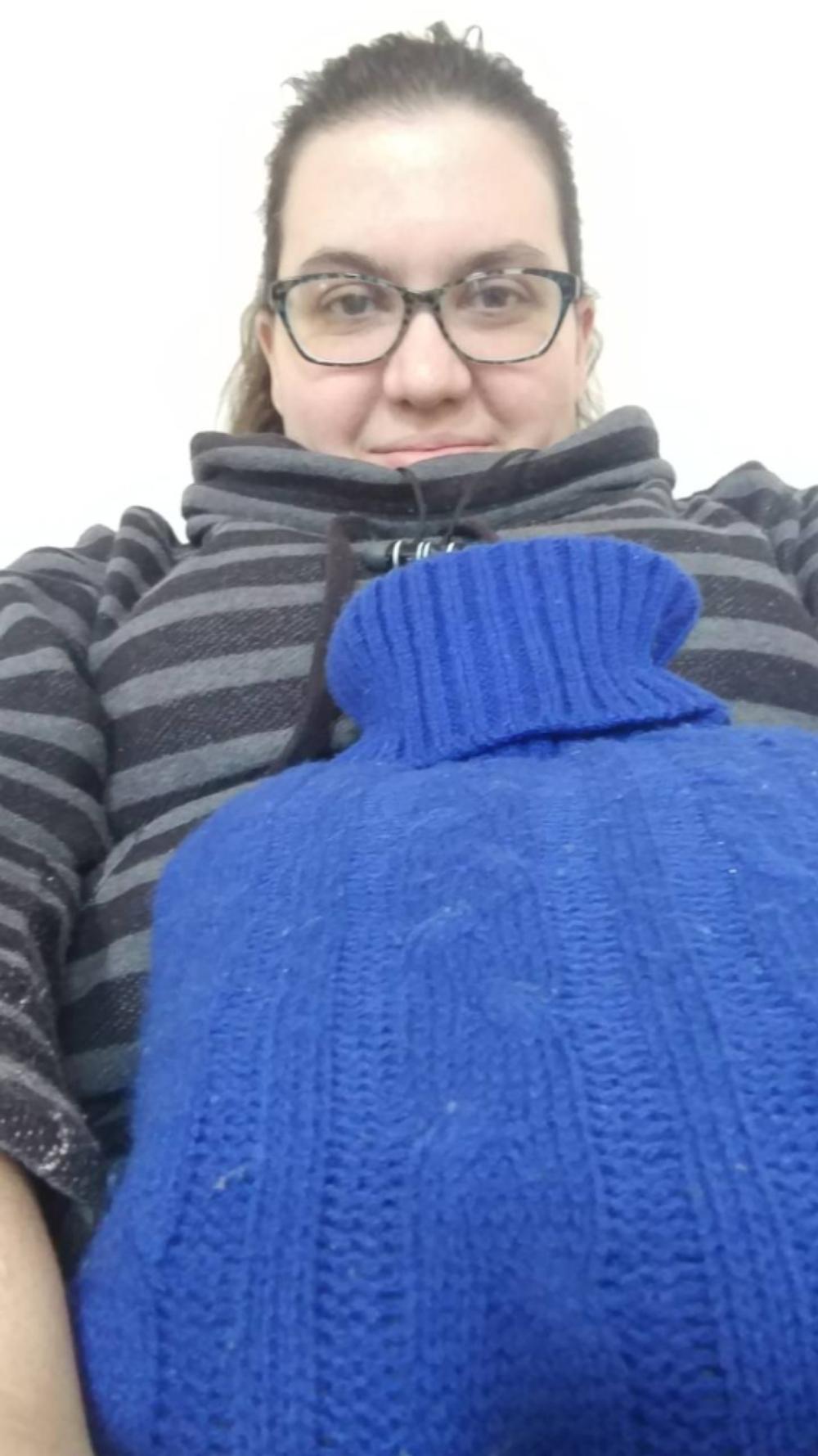 Kelli Ash - Exchange: Kyung Hee University - Fall 2017
Group project on Cartoon Network Korea for my marketing class. (I'm the one in the red sweatshirt). We studied the success of Adventure Time (which is the first successful western animation in Korea), and applied its success to the failure of Teen Titans Go!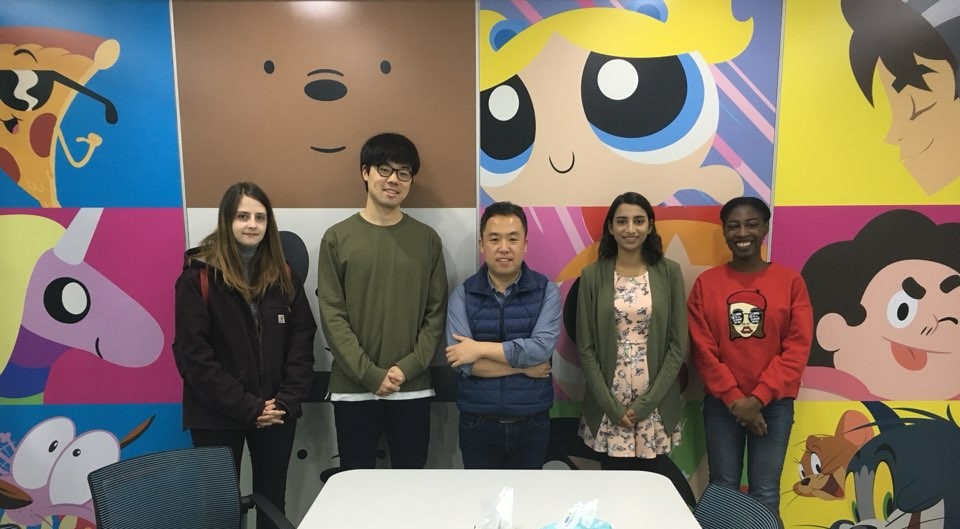 Me and my friends visited the Line Friends Store/Cafe in Itaewon. (I'm the one in the white jacket)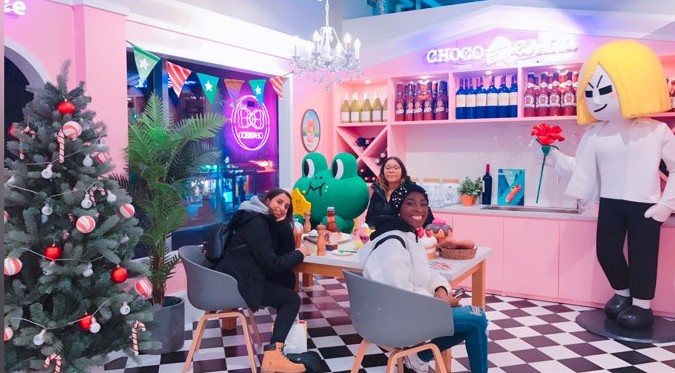 One of my friends and I went to the Alice exhibit in Seoul Forest. The exhibit featured pieces by various artists and included interactive pieces as well.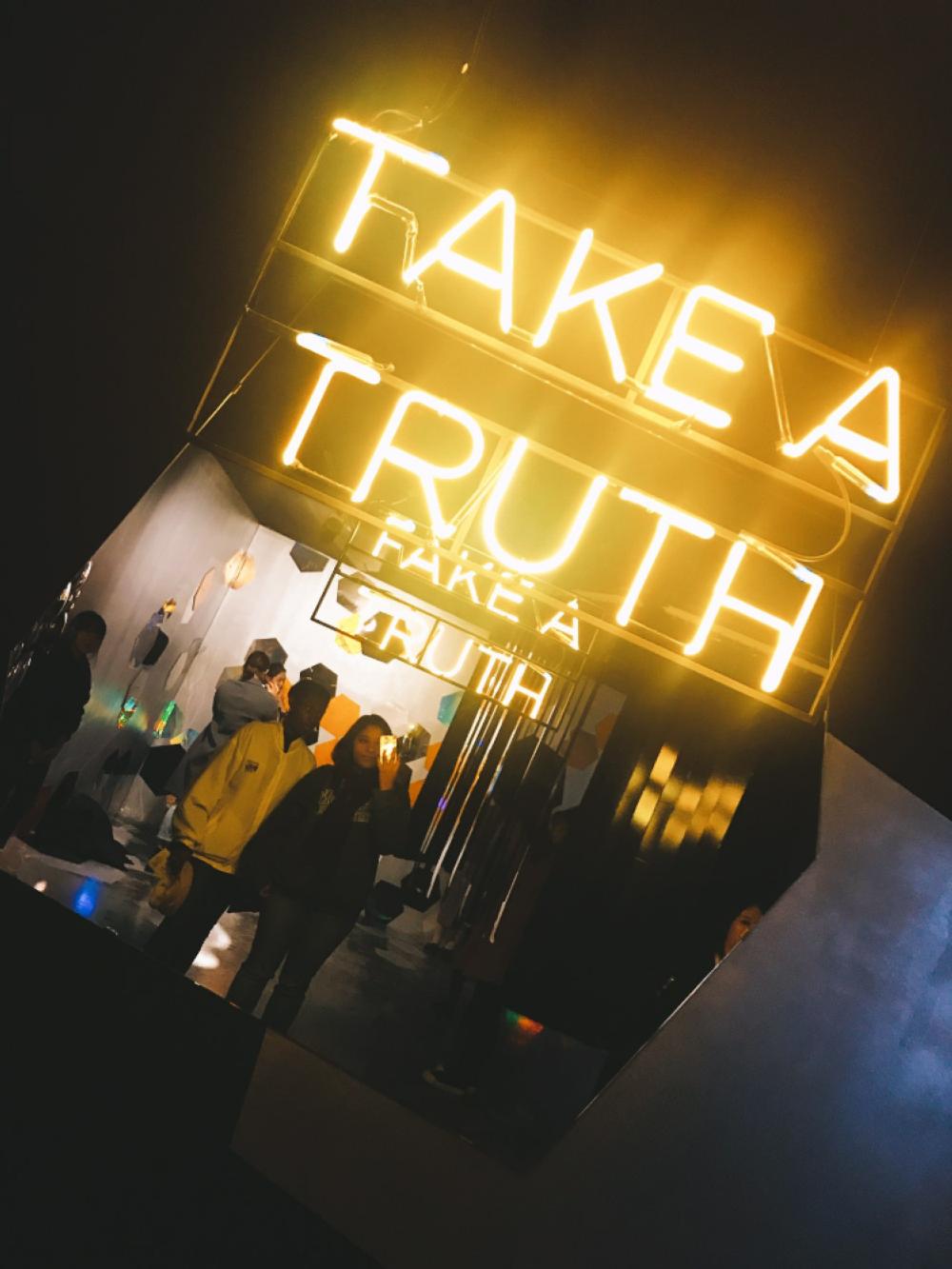 ---
Marshala Cofer - Exchange: Oldenburg, Germany - Fall 2017

Hi! I am currently studying abroad in Oldenburg, Germany. It is a mash-up of a small town and a medium city. A small town city. There are so many new things I am able to experience by studying and living in Europe. One new thing introduced into my life is bike riding. Now I presume we all know how to ride a bike, but none of us can ride a bike like the Germans/ most Europeans.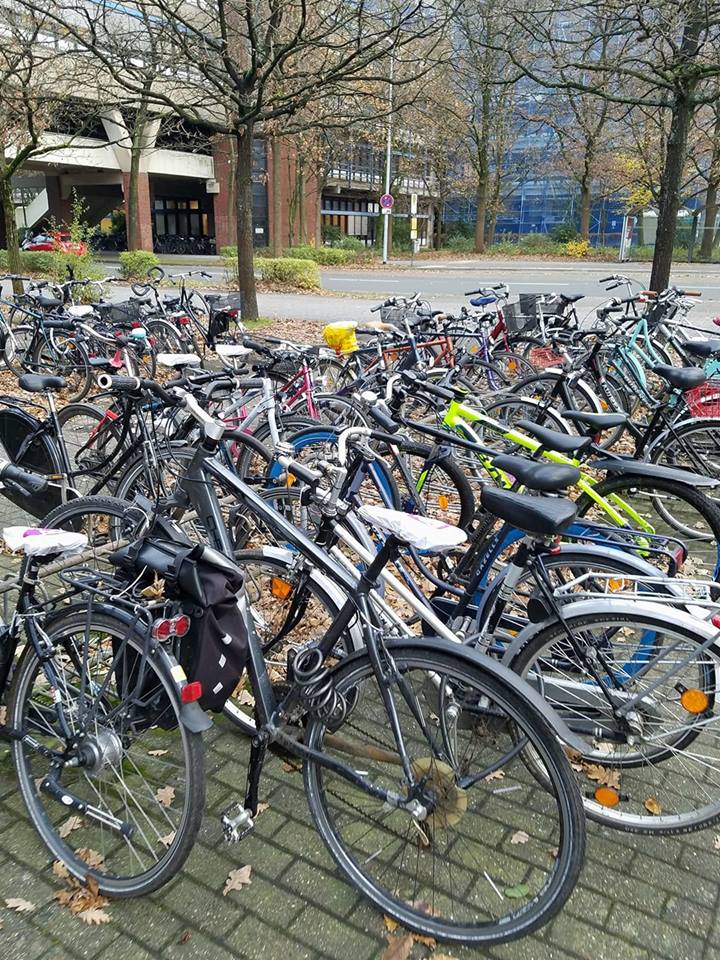 Before my trip, I last touched a bike when I was maybe 8 or 9? As an American, I naturally associate bikes to riding around my neighborhood as a child. I never went anywhere or used it as an actual device for transportation. I would never ride my bike to Ashlee Park in Newnan or to school or anywhere. Not only would that be quite the workout, it would be very dangerous, given that there are not that many places with set bike lanes or a safe space to ride. Most Americans have cars or friends who have cars, for transportation. In fact, I do not know an American who predominately uses biking to go everywhere. This is the exact opposite in Germany and most of Europe. People of all ages use bicycles every day to get around. I've seen everything - young children to grandmas riding around the city, living their German lives. Believe it or not, the grandpas are the speed demons and constantly pass me. It would not be a stretch to say almost every person in the city rides their bike on a daily basis, rain or shine! I ride my bicycle everywhere: to school, the stores, grocery shopping, you name it! Although many people have cars, it is much easier and more efficient to ride bikes. It is better for the environment, your health and your wallet. There are other alternatives, such buses that run all throughout the town and city, but bikes win by far.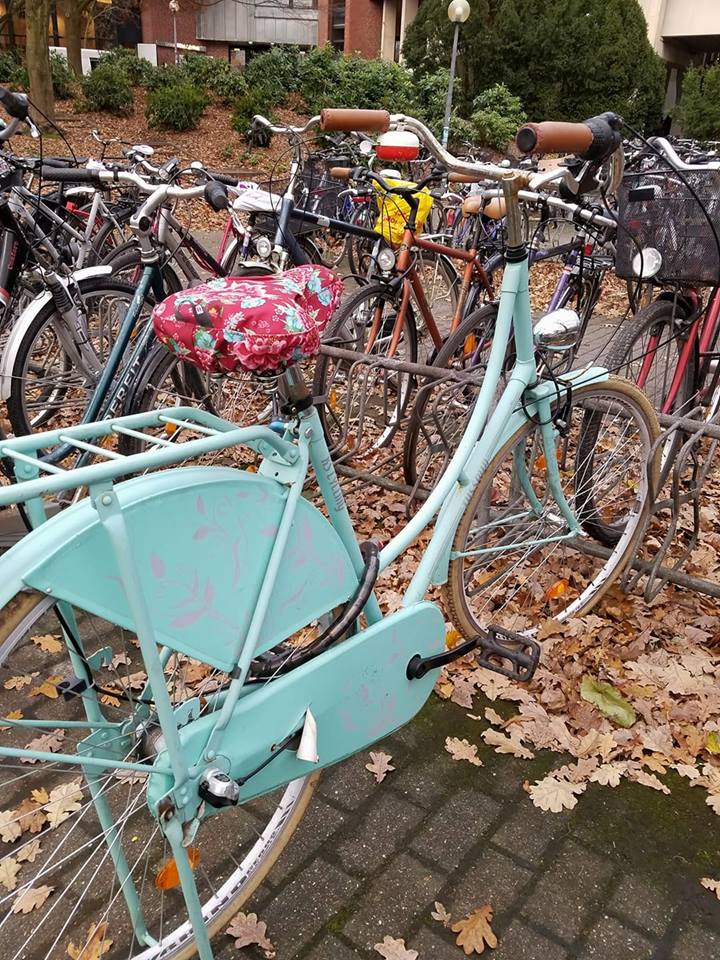 It was very interesting to make this lifestyle change. I feel more active and now I have leg muscles for days. I used to be very scared sharing the road with cars, but it is totally safe. There are bike lanes all throughout the city and cars gives lots of room for bikes. The only time you might be in danger is if you, as a pedestrian, stand in the bike lane. Overall, I find this cultural difference very interesting. Biking everywhere is a new concept for me and I am excited to integrate this practice into my home life in Carrollton. If you see me biking to class next semester- you know why!

Lisa Burton - Exchange: Oldenburg, Germany - Fall 2017
I have been in Oldenburg, Germany for about 6 months now and it has been the most amazing experience of my life. I first came with three of the German professors and with about 15 other students for the language program that UWG offers. I stayed on after their
ten-week
stay and have been living in Oldenburg by myself and really learning about the culture while being immersed in the language at the same time.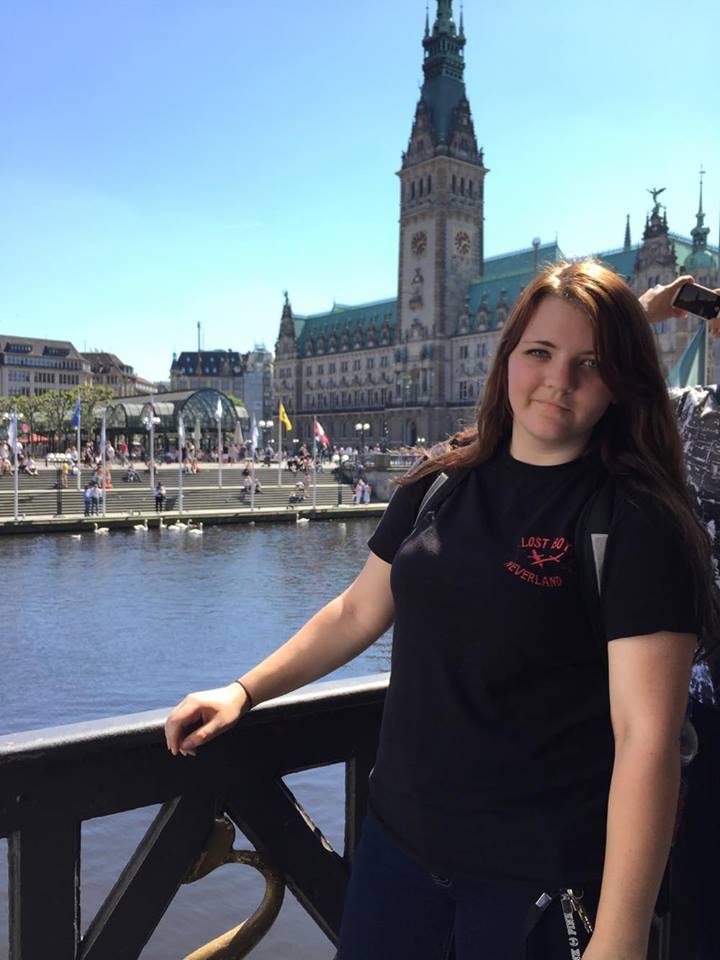 Over the course of my stay so far, I have been able to experience more than just Germany by traveling all around Europe during my summer vacation here. Some of the places I visited were the Swiss Alps, Paris, Venice, Rome, Budapest and
many
more. Although I still had to keep up with my studies, I have been able to travel, meet amazing new people from all around the world and have had an amazing time while doing so. Even while I am taking classes, I am still able to travel on the weekends. For example, I will be going to Prague this weekend and in a couple of weeks, I will be heading off to Amsterdam. I
would never
have been able to visit these beautiful and magnificent places if it wasn't for me deciding to do a study abroad to improve
my language skills.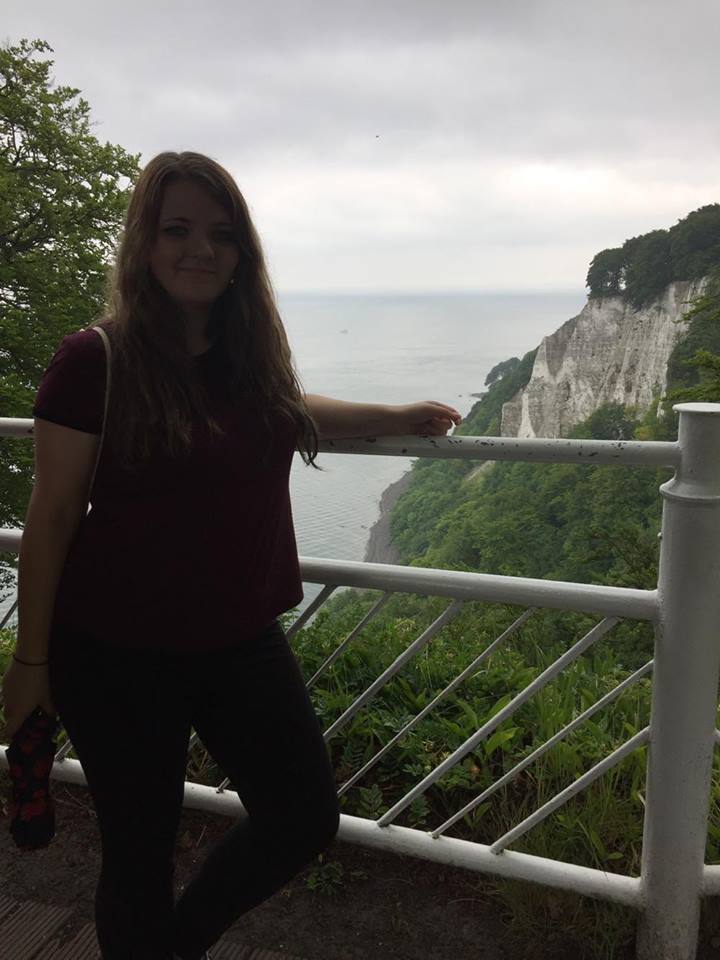 It is such an amazing thing to study at a new school, while also learning a language AND getting to travel around an entire continent. Although it has been amazing to explore these new cities, my favorite is still Oldenburg. It is such an amazing place to live and I believe it is very unique. It's a big enough city to always be exploring new places within the city, but also small enough to get to know people and to be able to really interact with Germans. Oldenburg is a wonderful place and I have absolutely no regrets about choosing this wonderful city.
---
Kelli Ash - Exchange: Kyung Hee University - Fall 2017
What's interesting or different about your classes overseas?
Classes here in South Korea are exam-based, with little to no homework, and they award points for correct answers, no points if you don't answer, and take away points for wrong answers.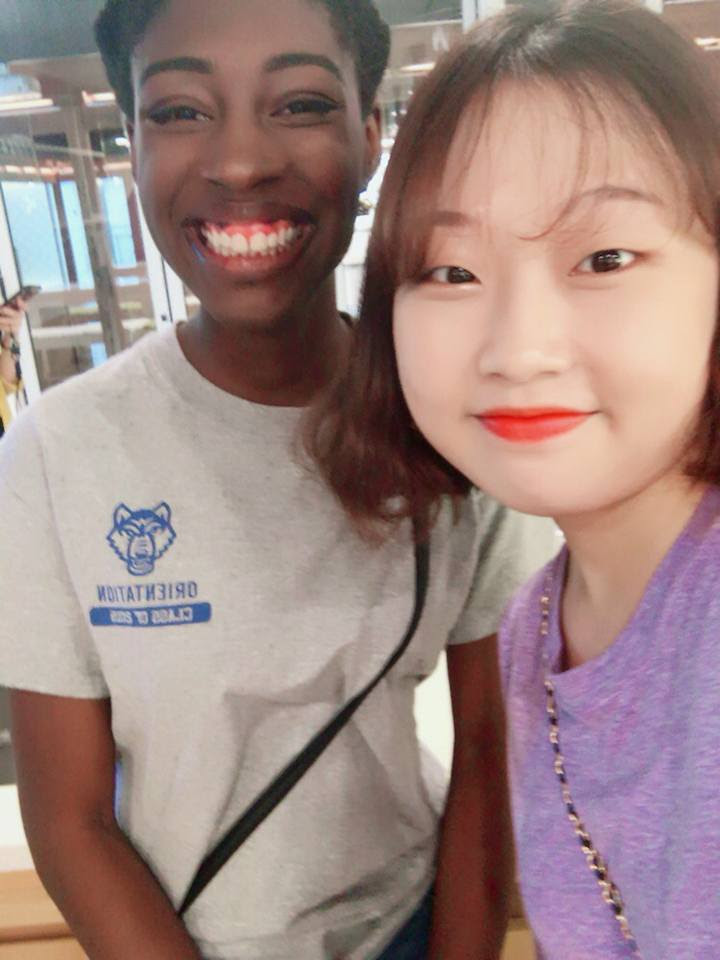 This photo is when the IFCC (International Friendship & Culture Club) took 25 of us exchange students
to the tourist center to learn how to make bulgogi (a beef dish) and sukjunamul (a mung bean sprout dish).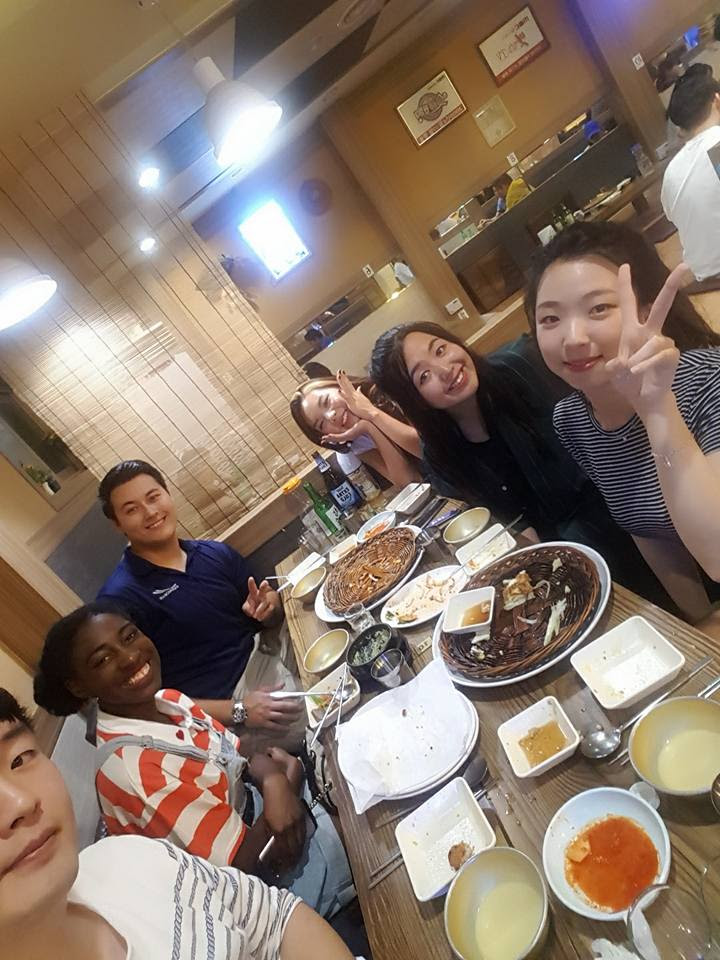 This photo is when my exchange buddy (the one cropped out/taking the photo) and I met up with some
other friends to eat different kinds of Korean pancake (kimchi, green onion, and pork)
---
Embracing Chile: Month 1
By Sierra Lemelle

I can't believe it's been a month already! Seems like a week ago I made the long haul to Chile: from Atlanta to Miami, then Miami to Santiago, and finally taking the bus from Santiago to Concepcion. Doing that journey alone was the first step of this independent process. It was the first step in uplifting my confidence, but hopefully returning home will be a lot easier. Through this process, I found that my language skills were adequate to get around, but I have a lot of learning to do. Overall, I feel that I was prepared enough from my study abroad experience in Costa Rica.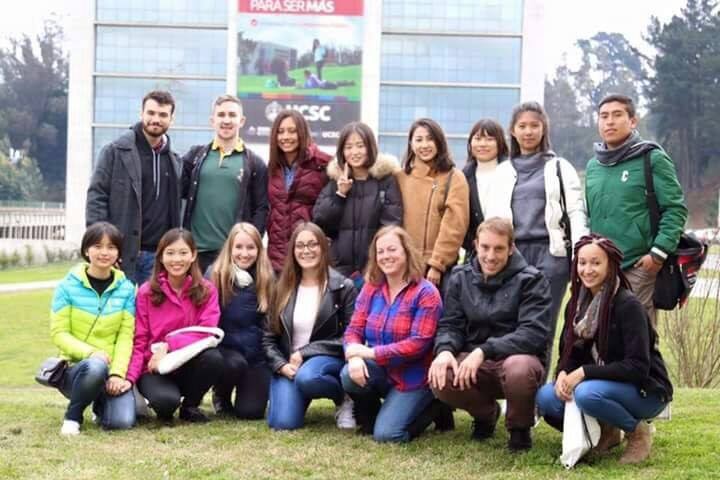 Orientation day for the new international students at UCSC. Students from Peru, Colombia, Germany, Spain, Ireland, China, and the United States are represented here.

When I first arrived, it was a little frustrating because I didn't have wi-fi at my house, so I didn't have contact with anyone for that first week. Also, there is no central heating in the houses here, so it was cold, but my host mom gave me lots of blankets. Coming from hot weather to cold weather so drastically kind of took a toll on my body and I ended up getting a little sick. It was difficult also because my Spanish is not at all exceptional, it's not at the beginner level but it's not great either. My host mom doesn't speak any English, so we had a really hard time communicating with each other. But, when we went to the university together the advisors were able to help us communicate and I was able to find out information that I needed. Mrs. Caitlyn and Mrs. Mary were very helpful. I was supposed to have a buddy to help make my transition a little easier and take care of getting my Chilean ID and Chilean phone but one of my buddies was in Spain and my other buddy flaked on me. Things were a little more difficult for me compared to other students, however, it eventually all worked out and I was able to get help from other students' buddies.

One night out, I met my amazing friend Daniela. It was fate. I got separated from my friends and she recognized from a photo posted of the new international students. We ended up dancing the night away. Then the next day she took me on my first adventure, really every day in Chile is an adventure, but she took me to a little town called Caleta Tumbes. She brought me here due to my love for seafood and this town did not disappoint. I had my first shrimp and cheese empanada, it was amazing.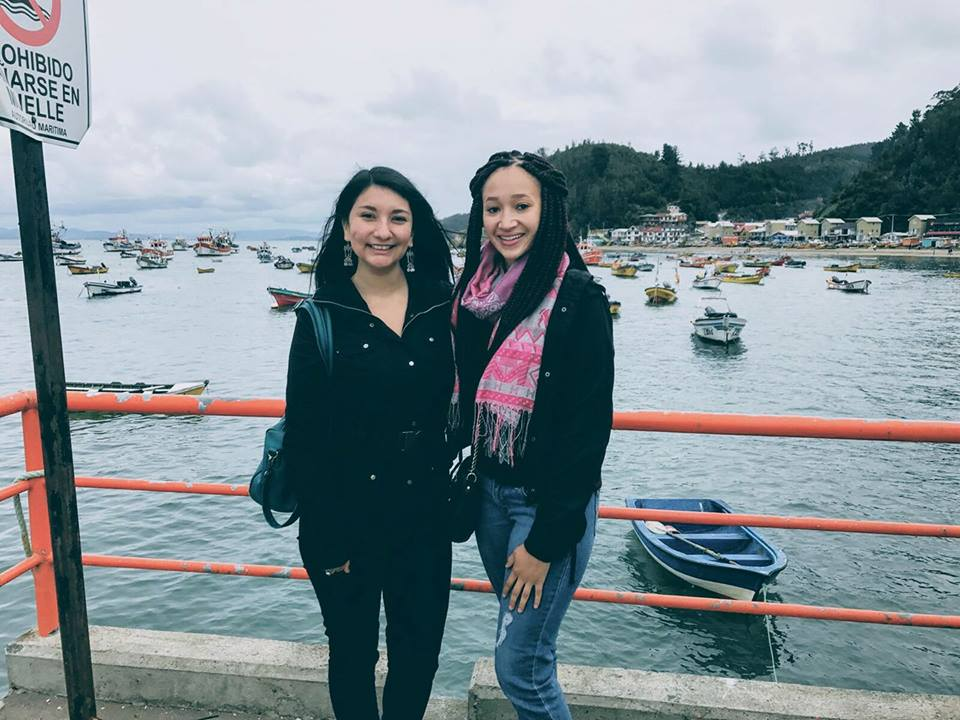 Daniela and I in Caleta Tumbes.

My first month was spent meeting people from all over the world and adapting to the culture and the language. Very quickly, I learned that Chilean Spanish isn't Spanish, it's its own language. This is because Chileans have so many of their own words and phrases that have different meanings and can have more than one meaning, words that you would only use in Chile, for example, "Cachai," "Weon," "Bakan." Chileans also speak really fast; this is something that they are recognized for. I've been told several times by Chileans that "if you can understand Chilean Spanish, then you'll have no problem understanding other countries Spanish." A whole sentence sometimes sounds like one word. Overall, I wish I would have prepared more for the Spanish spoken here. But I've definitely learned a lot of new words my first month here and I'm constantly studying to improve my Spanish speaking ability. Being fully immersed in the culture has definitely helped and forced me to learn the language. For that, I am determined and motivated more than ever.