Why Study Abroad?
Why You Should Study Abroad: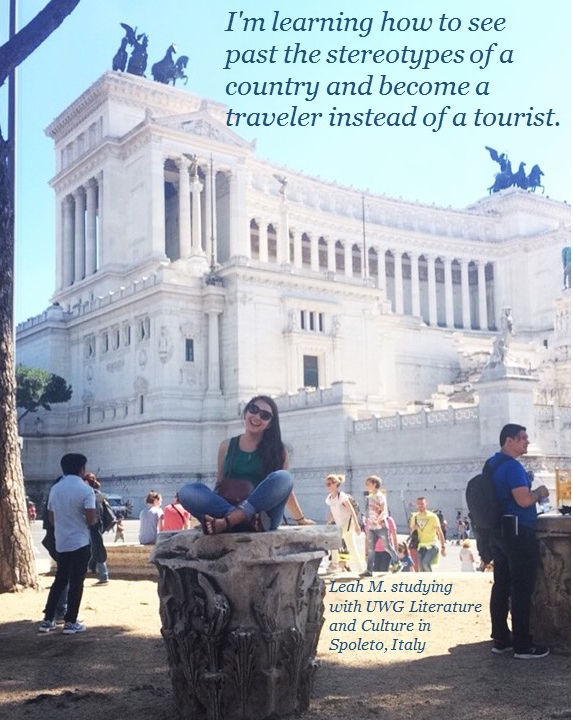 Many students think they can't afford to study abroad, but financial aid and scholarships can help make participating in a short program or a semester program much more accessible. Plus, students who study abroad develop skills that future employers like to see, so study abroad helps to make you more marketable after you graduate. You'll show that you have the ability to adapt to new situations and environments and that you have the initiative to go the extra mile (or thousands, even!) to make your education more meaningful.

Here are some important things to keep in mind as you consider study abroad:

• You can use your financial aid to study abroad. UWG students who study abroad through the Office of Education Abroad are eligible to receive HOPE, all UWG Scholarships and all the grants and loans you would receive if you were on-campus. There are also additional UWG Education Abroad Scholarships that you can apply for to help with the cost. The application form isn't complicated: just fill out an information sheet and answer a couple of short questions about why you want to study abroad. Click on the "Financing Study Abroad" link in the column on the left to get the form.

• Whether you're a freshman or a junior, majoring in art or business or undecided, the Office of Education Abroad can help you find a program that fits your curriculum and interests. Several departments offer programs for majors, and other on-campus programs focus specifically on the core curriculum. Students can also develop individualized exchanges with our partner institutions across the world. Thus, study abroad can help you make progress towards your degree and tailor your degree to your particular interests.

• You don't have to speak a foreign language to study abroad. Many programs are taught in English, and faculty who speak the language of the host country can help you learn some basics and navigate your surroundings. But if you do want to learn a foreign language or need to complete your foreign language requirement, UWG also has several language immersion programs that will allow you to practice your language skills and interact closely with the culture.

• If you've never traveled abroad before – even if you've never been on an airplane before – study abroad is a great way to start. For all short programs and some semester exchanges, you'll be participating with a group, so you won't be left on your own – you'll have others to share the experience with you.